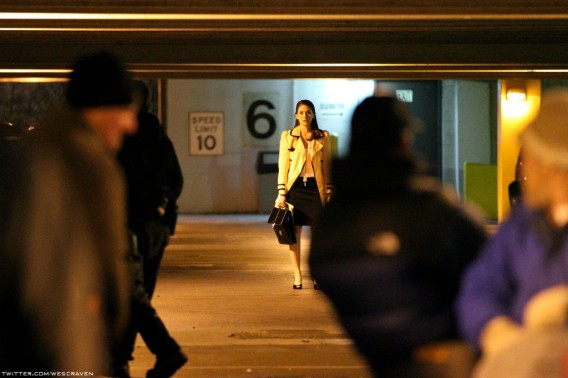 Overheard on Twitter…
"Alison Brie gets ready for her close-up" -Wes Craven
"Yep, that's me freezing right now. ;)" -Alison Brie
We've heard the brief Scream 4 reshoots are for the beginning, or the ending, but now a photo from director Wes Craven points to the middle of the film. So we're guessing All Of The Above. One thing the reshoot has accomplished already is to take back the sense of spoilage fans have felt post-test-screening. Anything is possible in the movie again and those feeling affected by rampant supposed spoilers can now seek sollace in probable doubt. Use your second chance wisely.
Focusing on the scene being shot (Supposition Alert!); the trailers quite clearly chose Alison Brie's character as a sacrificial lamb of a death to reveal. This is a horror movie after all and people are going to want to know that characters will definitely get killed. So it's no secret whose body lands on the news-van – you don't even need to hit pause to figure that one out. One comment from a verified test screening viewer was that a few of the deaths excelled more in aftermath (like that van shot) than in execution – comparatively, of course.
Therefore Brie's fateful encounter in the hospital carpark (?) might have been tweaked to make her goodbye more memorably savage. Or how about less definitive? Brie's character looks to be Jennifer Jolie 2.0 and we all know what a mistake it was to kill her. Scream 4 is supposed to usher in the 'next generation' to carry forth further entries, but with the confirmed highest mortality rate of any Scream, who will be left to push plot in part 5? Certainly if any killed character is to receive a "Dewey" and granted mercy by Team Scream before the final cut is locked, we'd love for it to be the smart and sassy Brie.