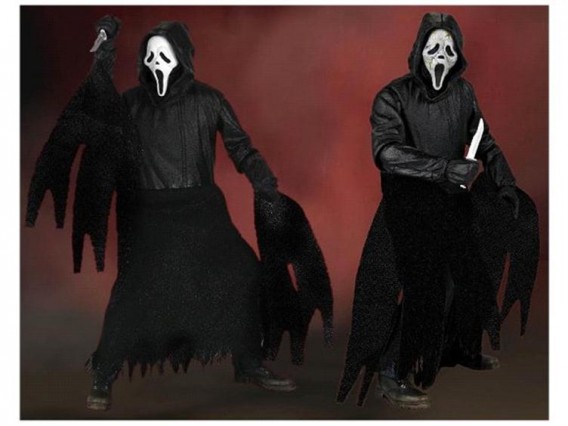 Both regular and zombie Ghostface figures from Neca are now availible to pre-order. It certainly appears the designs are final, which we're honestly not happy with. Just like Michael Myers' mask, there is far more to correctly duplicating the movie version than simply keeping the general colors and shapes.
Each figure has with over 14 points of articulation and soft goods robe skirt and sleeves to allow for maximum posability.
There are several flavors of pre-order: each figure on their own, together, or multiples in a case. Our advice? Get your Zombie Ghostface quick, as it is noted that they will only be available in the initial assortment release.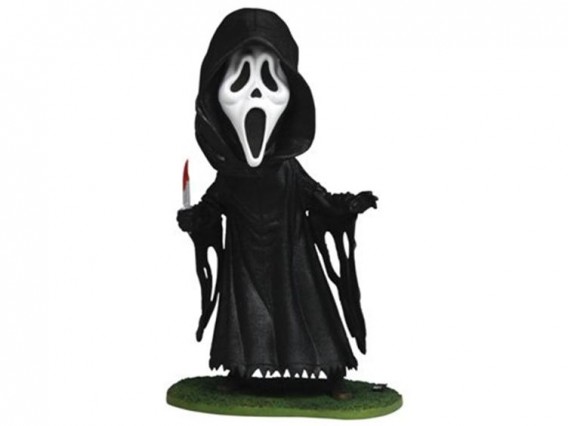 And here is Neca's Ghostface bobblehead, or correctly, "Head Knocker". How cute is this lil' guy? The thing to remember about head knockers is that they've broken past the fanboy market – while some might be a little nervous about displaying a Ghostface action figure in say, their workplace, there shouldn't be an issue with these because they're cool and kitsch, and passerbys like to wobble that lil' head.
Scream, the modern slasher legend, returns to screens this April along with this highly detailed resin head knocker of Ghost Face.

Standing over 7″ tall with bloody knife in hand and cell phone near by, Ghost Face is ready for his next victim.
All Neca Scream figures available to pre-order by clicking here
Thanks to Craig from the forums for the tip-off!