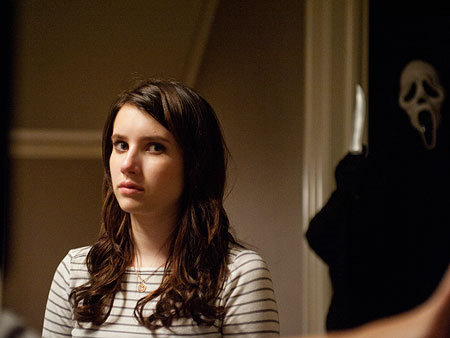 A high-res version of an image only barely glimpsed in a recent Entertainment Weekly has made its way to their online arm as part of their "15 Hot Movies Of 2011″ photo-gallery. This ambiguous still is sure to create a stir…
Depicted is Emma Roberts' character Jill Roberts whom we assumed to be Scream 4's new-generation heroine, except two alternative spins are dropped on us: she could instead be a possible killer, or a possible victim. It certainly looks like Team Scream are going out of their way destroy the Scream status-quo and mess with our heads along the way. New Rules, indeed.
Ten years after the last Scream movie, Neve Campbell's Sidney goes back home only to encounter yet another brutal Ghostface killer and a doozy of a new twisty plot, according to director Wes Craven. Kevin Williamson, Courteney Cox, and David Arquette return as well, joined by a few young potential victims (including Emma Roberts).
Image Credit: Gemma La Mana
Thanks to Eric for the tipoff.
Source: EW