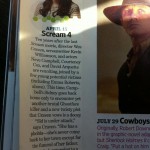 Thanks to a tidy relationship with Team Scream, Entertainment Weekly they've been the go-to rag for Scream 4 coverage on paper – if you'll recall, they released the first movie still and featured a cast photospread, to name two scoops. Their latest issue contains the next exclusive in that long line – a short blurb with a new photo of Emma Roberts that looks like it came right off one of those nifty Scream poster cast line-ups. Hmm…
It's the content of the blurb that has knocked fans for a loop – a quote by Wes Craven that reveals the fate of a beloved character. Surely if Craven himself mentions it, it can't officially be a spoiler, right? The problem is, the intense secrecy surrounding the series' production and reluctance of cast and crew to reveal the most minor of character details has conditioned us to buy into the mystery. We've drawn lines in the sand we normally wouldn't with any other slasher – namely, prior to the film we don't want to know at all who lives or dies – major or minor.
We concede it's a subjective matter. Perhaps we're just so used to the official company line of minimal story info that when the man himself actually unloads an intruiging nugget that us know-it-all fans had no idea about prior, it's freak-out time. Plug this into the fan hysteria over, frankly, the mind-boggling decision to test screen the film so early, and a possible picture is painted that Team Scream have boldly discarded their gladitorial guarding of information in favor of good old fashioned in-your-face publicity.
So let's try and put things in perspective: EW surely wanted something juicy to publish instead of the same old trotted-out basics, and Craven provided. We've bemoaned the lack of meaty news over the past few months, well now we have some. Let's roll with it…
Image Source: Hello Sidney