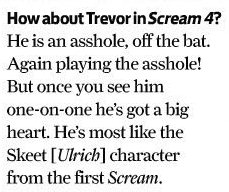 Rising star Nico Tortorella draws a curious parallel between his Scream 4 character Trevor and an original Scream character in the pages of March's Total Film UK.
"He is an asshole, off the bat. Again playing the asshole! But once you see him one-on-one he's got a big heart. He's most like the Skeet [Ulrich] character from the first Scream."
Click the scan to see the full page. Thanks to our friends at nico-tortorella.com for the scan and tip.