Every Scream has reshot to some degree, and Scream 4 will be no different – today we learned production is headed back for Northville, Michigan for some brief reshoots purported to add "suspense and terror" to the opening sequence.
From On Location Vacations, a reliable source of detail during filming last year:
One of our readers, Amy, received a filming notice in Northville, MI (on Clement St. between 7 mile and Frederick) for Jan. 31 & Feb. 2 that simply listed a motion picture entitled "Z".

Anyone who was following the Scream 4 shoot last summer will remember much of the film was shot in Northville under the production name Z. So, it sounds to us like Scream 4 may be returning to Northville to shoot another scene.
Coroboration and some further details from Northville MI Patch:
On Jan. 31 and Feb. 1 parts of the film will be re-shot on Clement Street in the township, said Michelle Nabozny, executive secretary to Northville City Manager Patrick Sullivan.

"It's the same set-up as before," Nabozny said, "with the Northville Square parking lot as (the) base camp."

The crew will be shooting 14 hours each day during their Northville stay. The filming is expected to be done primarily indoors. It is unclear whether any of the stars will actually be here.

"It could just be lighting and special effects," she said. "They're coming back to do some additional suspense and terror for opening sequence."

Clement Street will be closed on Monday and Tuesday. Only residents and film crew will be allowed on the street. There will be barricades at Clement and Seven Mile and Clement and Frederick roads. Orchard Drive is the suggested alternative.

"The impact is going to be less than it was last time," Nabozny said.

Only about a third of the Northville Square parking lot will be used by the film crew, she said. This includes part of the upper deck.
Although Scream 4's opening scene was hailed as extremely fun from the only two test screening reports we've been able to verify as genuine, we guess Team Scream wants the sequence to be more Casey Becker-ish, less Maureen Evans-ish.
No word yet on if the filming will be headed by Wes Craven or left to a 2nd-unit type team.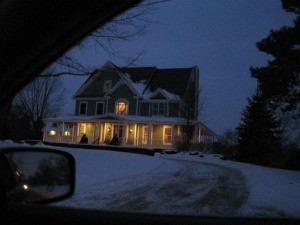 Updated: Mere minutes after posting this, our learned friends at Scream Franchise Informer released an exclusive tipster photo and report:
"so i drove by and there's one movie truck there so far and seems like there's movement at both houses on that road…i think the big green house is the finale house where ghostface chases around Neve and she's hanging there…i think the other house across the street is one of the stab houses or a house that's shared w/ Brittany…"
Could it in fact be parts of the climax being reshot – not the opening? Hmm…