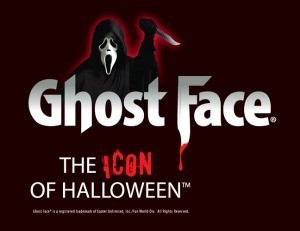 Best to set the week ahead straight by dumping our email inbox from the past week. In between lame death threats from those we quickly shut down for posting spoilers in the comments section, there were some prime tips submitted by our readers. Let's get through them, shall we?
Canadians have all the fun! The Scream 4 trailer can be found on the blu-ray discs of both Piranha 3D and Catfish (no aquatic themes there, the latter movie's a thriller). Both are released by Alliance Films, who you may remember as the company that released the Scream Franchise Collection onto blu-ray in that region last year. They now have home rights to all four movies. Thanks to Eric and Joey M for the tip.
Fun World have trademarked the slogan "The Icon Of Halloween" which will be branded on future Ghost Face product. Them's fightin' words, pardner! Look for Michael Myers Vs Ghost Face in theatres October 2011. We kid, we kid. Congratulations to Fun World, who work hard to ensure every fan high off Scream 4 will have merchandise to collect this year. Logo source: Scream Franchise Examiner
Shock Till You Drop have exclusively premiered the news on the latest Neve Campbell flick The Glass Man – sadly, no images of the four-time franchise heroine but the plot, which has her playing the wife of a man keeping dark secrets, sounds compelling enough. Read the article here.