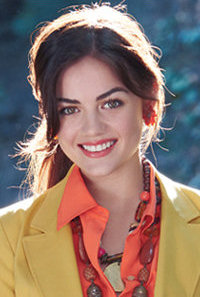 Is this a spoiler? We think not. When Scream 4 actress Lucy Hale spoke to Teen Vogue, there was a mention of blood. While it doesn't automatically mean her character bites it, let's face it, every newbie is on mortality watch.
"I was pretty terrified while I was shooting. There's a lot of blood, a lot of screaming, and, well, it's a Wes Craven movie," Lucy says, laughing. "I'm a huge horror-movie addict, and it was really amazing to be part of a cult classic."
Hale's quotage appeared both online and in print for the latest issue of Teen Vogue. Thanks to forum member 'screamlover' for the tip-off!