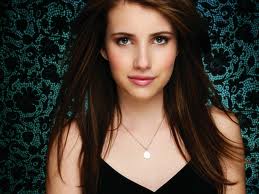 Emma Roberts talks Scream 4 in a new interview by Moviefone. She thinks it's funny she shares the same surname of her character too…
So you're like the new female badass in the 'Scream' series…

It's an honor. I mean, I've been a 'Scream' fan… Also, I love Wes Craven, and I love Neve [Campbell], Courteney [Cox] and David [Arquette]. I thought [they] have been fabulous in every 'Scream' movie, so to come in and kind of take on this new role — I play Jill Roberts, coincidentally her last name's Roberts, Sidney Prescott's cousin, and it's just cool because if you had told me five years ago, "You're gonna be in 'Scream' in a couple years," I would be like, "Okay, whatever, I don't believe you." So it was just really surreal.

It's an interesting return for the horror genre, because it originated this sort of meta-horror trend –

Well, 'Scream' has always kind of changed horror; it's always kind of taken a new spin on it, and this one, I think, is going to open the door for a lot of new different movies. Not so much 'Scream' but I think it's gonna really inspire people, because it's just insane. I wish I could say more, but it's utter insanity. I mean, when I was reading the script, my jaw was dropped the whole time.

Because it was…

Because every time you think that you've figured it out and that's the end, it's not.

So, you're helming the new generation of the 'Scream' team. Are there plans for more? You're kind of set up to be the final girl.

Who knows? I guess we'll see. I mean, that would be awesome.
Thanks to Screamingly on the forum for the tip-off.
Full Interview: Moviefone