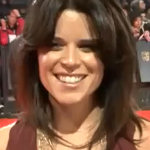 Absolute Radio managed to catch and keep Neve Campbell's attention for a little one on one at the BAFTA Awards in Campbell's adopted home of the UK. So what did Scream 4's "victim royalty" have to say?
The actress addresses the issue of coming back after such long reluctance head-on, stating she had time to think about it. There was certainly plenty of time since the last one! Besides singing the praises of Wes Craven and the new cast, she confirms she doesn't use Twitter and relates an amusing anecdote about a knife-happy prop guy on set (Was it Skip Crank? With a name like that…).
Thanks to Scream4fan on the forums for the tip-off.