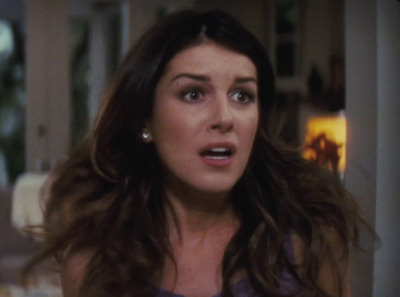 It's been far too long since Canadian cutie Shenae Grimes has been grilled about Scream 4, since October (for TV Guide) in fact. Now she has broken her silence and deconstructed said silence, within an interview at Movieline focusing chiefly on her upcoming indie film Sugar.
Obviously one of the things you're doing is Scream 4. I would imagine that you aren't really allowed to say anything about your role though.
Yes, I have been sworn to complete secrecy by Mr. Bob Weinstein. He warns me not to open my mouth, and I have not since the day we spoke. The first day on set basically, he literally before — it was not even my shooting day, I was just going to meet everyone — and the first thing he said was like, "No, it's great, I'm so glad you're a fan of the originals! But: If you tell anybody what happens, you're dead." I was like, "All right, I will stay quiet."

How did Scream 4 come about? Were you looking to star in something like this?
I had no intent on doing a project like that. I don't really know — I basically got a magical phone call one day that was like, "Hey, do you want a part in Scream 4? Cause they offered it to you." Which never happens. I've auditioned for like hundreds of projects that I've never even called back for before. To get a straight offer was crazy, but it's a very tiny cameo. It's not like Emma Roberts role or anything like that; those girls were there for months and months.

But yeah, you know, a horror film and another remake and all the rest was just like, "That can't be the first major step for me." So I could never audition for the lead role — when those auditions were taking place — but I know a lot of people did. I just didn't think it was the right step for me. But a cameo in one of my favorite movies of all-time? I was like a kid on Christmas. The original Scream is one of those classic things, but it totally pokes fun at itself too. It's never taking itself too seriously, which is why I think it's such a cult classic.
We're noticing a pattern here – Tori Spelling of Beverly Hills 90210 played Sidney in Stab – so Shenae Grimes of nu-90210 as a Stab character would make sense in the upside down world of Scream. Surely?
Source: Movieline