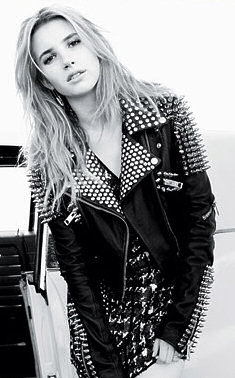 Big career ambitions are nothing new in Hollywood, but reports from Us Weekly and Deadline Hollywood highlight Emma Roberts' desire to break free of her famous relatives (like father Eric Roberts and aunt Julia Roberts) and find representation to help groom her into "the next Natalie Portman."
Portman broke out in a big way with her own blockbuster trilogy (Star Wars), so the parallels are interesting if Roberts' upcoming Scream 4 kicks off a second trio of films as well. This is, of course, only the case if her character is lucky enough to make it through April 15's frightfest with a pulse.
Movie insider blog Deadline Hollywood describes Roberts' intent: Teen star Emma Roberts just turned 20 and has decided to take an agent. David Sweeney of David Sweeney Management who has repped her for 12 years is organizing a series of meetings at the major tenpercenteries for Roberts… As for an agency, she and Sweeney are looking for reps who'll help her groom her to be a serious actress, aka "the next Natalie Portman.
Additionally, the web version of Us Weekly reports comments the actress made in the April 2011 issue of ELLE magazine. She said — among too-familiar comments of her being "terrified one moment and laughing the next" on the Scream 4 set — that "Gwyneth Paltrow and Kate Hudson have made names for themselves regardless of the fact that their parents were famous. I'd like to have a career like that too."
Regardless, with Scream 4 already wrapped, the in-demand starlet is looking toward the future: "I can still play a high school student if I want, or I can play older," Emma says. "I don't have to limit myself right now, so why should I?"