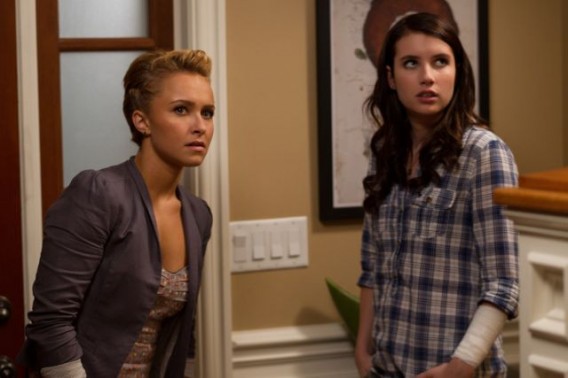 Hayden Panettiere had lots of preparation leading up to her battle with Ghostface in the upcoming film, Scream 4.  E! Online recently caught up with Panettiere, who revealed her semi-Scream encounter with a real-life burglar:
"It was the scariest moment of my life," Panettiere remembers about the break-in. "The alarm was going off and off and off, but no one was coming. As soon as I knew what was happening, I grabbed my taser and my cell phone and locked myself in the bathroom."
And if you thought the former Heroes star would sit tight for help to arrive, Panettiere proved she can be a true heroine: "I called a friend that lived close and I called my dad," she said. "I was sitting and shaking by the toilet, but then was like, 'Screw this! I'm not waiting for somebody to come barging in.  So I crawled out the window."
"I'm running with this taser in my hand and I run around the corner of the house and I've got like seven police with sniper rifles and lasers on me. I'm going, 'Don't shoot! Don't shoot me, please!'"
Panettiere wasn't as revealing when asked about her character in Scream 4 – the horror movie buff, Kirby Reed: "You get a lot of scripts for horror movies and as we know horror movies either can be amazing or there can be really horrible so I was always nervous about doing one. But then this came along and with the cast that was involved and Wes Craven directing it? It seemed like such a blast."
"I can't tell you if I live, die, am the killer or not the killer." Will the horror aficionado be able to survive this one of a kind horror film?  Scream 4 hits theaters April 15th.