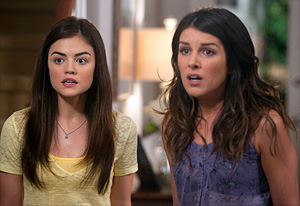 You want to know what's been fun? Deciphering who is who among Scream 4's Sexy Six (Shenae Grimes/Lucy Hale, Kristen Bell/Anna Paquin, Aimee Teegarden/Britt Robertson). All were hired for cameos towards the end of an extended shooting period last year, and in pairs – hinting at opening scene participation for some.
TV Guide have released this photo of Grimes & Hale looking suitably scared. Hale is quoted as saying "The phone rings and we're asked if we like scary movies" (is that an open window behind them? Our guess: the call is coming from INSIDE THE HOUSE!) and character names are dropped:
Lucy Hale is Sherrie and Shenae Grimes is Trudie.
Here is the source link though you may want a spoiler heads up, as the brunettes' mortality and positioning is revealed. Still not even really a spoiler, if you've read past interviews, but it pays to remain on the side of caution. Sadly there's no protective buffer for our mobile site users yet, but webheads can choose to highlight the text below:
TV Guide state Grimes/Hale are the first victims in Scream 4, pulling their best Drew Barrymores. We wouldn't take it as clear-cut gospel, though – we still think there's wiggle-room here for a Stab reveal or reversal.
Discuss the revelation below – spoiler purists, you've been additionally warned.