Why was Craven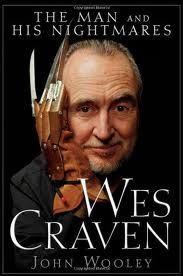 reluctant to direct Scream, which spawned the number one horror franchise of all time? This and more are answered in Wes Craven: The Man and His Nightmares by John Wooley. This morning, Scream Franchise Examiner posted an interview with the author, which also touches on Scream 4.
Wooley's interview takes a brief look at some Craven's passions and motivations as a writer; a filmmaker; and how his first two films (Last House on the Left and The Hills Have Eyes) just happened to be horror.  The interview also touches base on some of the obstacles Craven had to endure while shooting the first two Scream films, and Wooley even lets readers in on the day all Scream fans' dreams came true when Craven signed on for Scream 4:
For franchise fans, would you mind sharing some of the behind-the-SCREAMs trivia that you encountered?

Although I touch on it in the book, most fans already know about the circuitous road that Scream 4 traveled, with the pleas to franchise stars and the will-he-won't-he hullaballoo about Craven's participation.

Perhaps the thing I found most intriguing about the Scream backstories involved all that craziness with the Santa Rosa School Board, which decided to pull its permission for Craven to film at its high school, as well as the fights against Internet leaks on the Scream 2 set.

You were present when Wes Craven officially signed on to direct SCREAM 4.  What was that moment like?  Did he reveal   his motivations for returning to the franchise and/or what he hopes to accomplish with the film?

I was actually on the phone with him, doing the interview from my home in Oklahoma, when he told me, "I think it's very likely that I'm going to do the next segment of Scream."

I said I'd been reading that in the trades, but that he was always quick to point out that no papers had been signed.

He laughed and said, "Literally, papers are coming into the yard as we speak. Do you want to hang on for one second?" And he left and then came back on the line, having just signed the contract. Again laughing, he asked me not to put the info on my website that night. Which, of course, I didn't.

Why did he do it? Having worked as a freelance writer for more than 25 years myself, I can say that if something interesting is offered to me and the money is good, I'll snap at it like a turtle. Scream is the most successful horror franchise in history, and I'm sure Craven still has some ideas about what he can do with it. Also, I suspect he got a very nice paycheck, which is exactly as it should be.
Wes Craven:  The Man and His Nightmares is out today.
Source: Scream Franchise Examiner