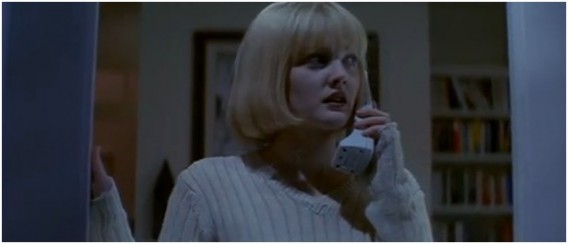 So the fans are all at it – cogitating exactly who will bite it in Scream 4. But I'm thinking that at the top of everyone's speculation list is which scene and which character will possibly come close to matching the legendary Drew Barrymore scene of Scream.
One could easily argue that it's impossible to beat it – no Scream film has managed to do so thus far. But Scream 2 came pretty close. The sequel kicked off with another epic boyfriend/girlfriend death scene which was, in some ways, more imaginative and elaborate than the opening scene of Scream. The public and brutal murders of Phil & Maureen at The Rialto movie theater premiere showing of Stab was a close competitor to the deaths of Steve & Casey. Not only did we see brutality, but it was also set against the backdrop of Stab's take on Casey Becker's death in Scream.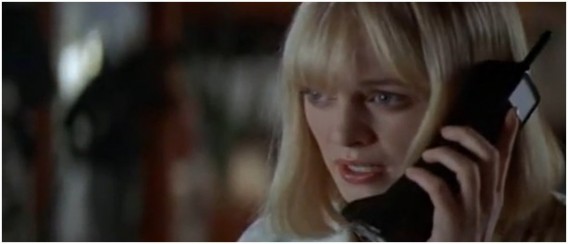 While Heather Graham acted out what had happened in "real life", Maureen was killed amongst a crowd of excitable fans, unbeknownst to them at first. The claustrophobic and chaotic circumstances in which Maureen died was actually very oppressive and quite frightening. The thing is, I don't count this as the scene in Scream 2 that mirrors that of Drew Barrymore's.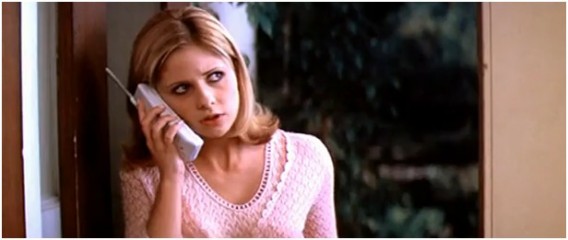 The true Barrymore/Becker competitor of Scream 2 is Sarah Michelle Gellar's portrayal of Cici Cooper. Although this wasn't a film opener, it was more a mirroring of Scream's opening scene in that it featured an innocent girl being stalked via phone call, around a large house. And I actually think it came close to matching Casey Becker's demise. The tension surrounding Cici's harassment was palpable and the build up surrounding her eventual death was superb. The let down here, however, was that the actual chase part of this scene was over within about 30 seconds. Although being flung to her death off a balcony was pretty horrific, it didn't have the same effect at all as that very disturbing image of Casey Becker, hanging from a tree, at the climax to Scream's opening sequence.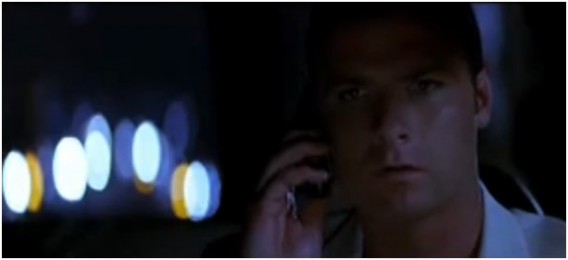 Scream 3 rushed its phone call scenes way too patently. The suspense was considerably lessened. Again, it featured two Barrymore-esque scenes. The opening, which featured Cotton Weary harassed on the phone, was the first of these. But there was something about a guy, on a cell phone, stuck in traffic on an LA freeway, that didn't quite cut it. Yes, it was a good movie-opener, and in some ways reverted back to the ways of Scream (opening scene involving a forbidding phone call) but it just wasn't a match to the original. No-where near, really.
I would personally consider the Drew Barrymore of Scream 3 to be Sarah Darling. Like Cici Cooper, she was the third death of the movie and was killed alone, after a threatening phone conversation. But while Cici's call was lengthy and suspenseful and genuinely frightening, the majority of Sarah's call involved the killer vocally masquerading as someone else (or not, as the case may actually be). Again, the call lacked trepidation, was pretty quick, was parried off by Sarah's flippant and comedic remarks and was the lead up to what was another swift killing. Sarah's chase and struggle is a lot more energetic than Cici's, but the whole point of this type of scene is really the build up with that phone call.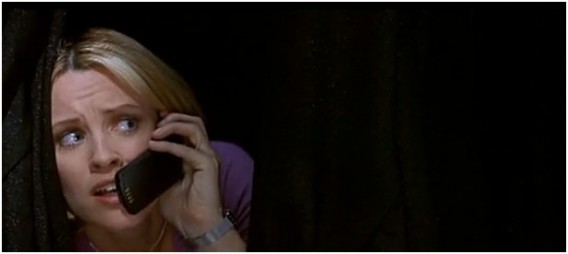 What's so wonderful about Drew Barrymore's portrayal (and Kevin Williamson's writing) is the naivety of Casey Becker, mingled with the genuinely frightening direction the phone call takes. I suppose with Scream, it was the first time anyone had heard "that" voice, but still, the whole sequence is just superb – Casey knows the caller is odd but still lets her guard down, is even flirtatious with him, takes him in only for him to totally take control of the situation to a horrifying effect. Casey's call is the only one where the caller disallows her to hang up – he makes it impossible for her to escape, simply by keeping her on the phone. In the cases of Cici, Cotton and Sarah, they all just cut the killer off. On top of this, Casey is alone in a suburban house, out in the sticks.
She is also aware she is being watched. This is not the case with any of the others. Cotton knows that someone is watching Christine, but he is not subject to a personal threat; Cici hears a noise up-stairs but doesn't know anyone is there; Sarah hides from someone she thinks is in the next room. But none of these scenarios features quite the same threat that Casey Becker does. That mixture of her home environment, the knowledge that she is being watched and the control the killer has gained, is what makes that scene so epic. Throw into the mix that she has just been made aware of how real the threat to her is (seeing her boyfriend sliced open before her eyes on the patio), and you've got something even more terrifying. And the final ingredient to this whole sequence: the game. The horror trivia that Casey has to answer. This doesn't happen ever again in a Scream phone call death. Cotton is asked questions about where Sidney lives but that's hardly the same.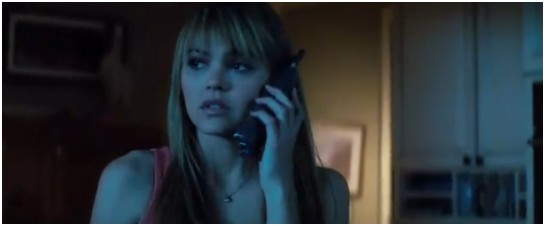 So, the big question: who is The New Drew? Who will have the scene in Scream 4 that will try to compete against Casey Becker's? Will there be an opening phone call scene or will our opening scene be a phone-less, outright kill? Will we get horror trivia? How much of a fight will the victim put up? Will the death be as dramatic as Casey's hanging?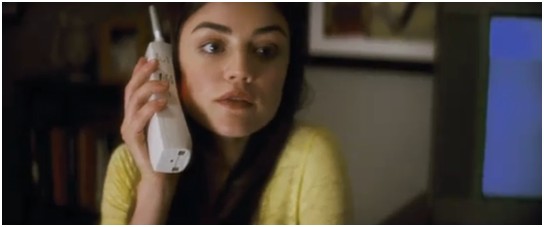 My money is on yes! Purely thanks to publicity I have seen so far, but I'm glad of it. From clips and stills, I can suggest three scenes that could match up to Casey's scene in terms of set-up – set in houses with a girl being stalked via means of some sort of phone call. In trailers I've seen things being thrown through glass doors again; I've seen shadows moving past windows, suggesting a stalker actually stalking; I've heard the caller reference horror movies. It looks promising. And to add to it, you've also got Allison Brie's scene on a cell phone in a parking garage, which suggests the more recent form of stalk-by-phone method as well.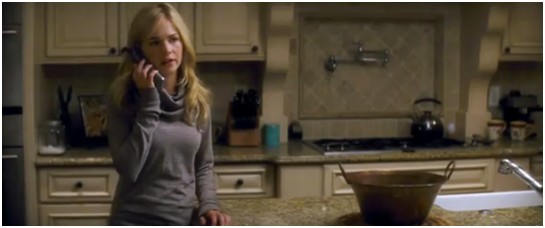 The major excitement here is the fact that for Scream 4, we are back in Woodsboro. And this, I believe, is why I really believe Scream 4 will live up to the standards set in the original, more so than any other sequel. The series is going back to its roots. There was just something less scary about a campus-based murder spree, or a Hollywood-based one. This time, we're back in Woodsboro – we're back in the quiet, creepy town of dark lanes, tucked away houses, quaint gardens with plenty of shrubbery for a killer to hide amongst and plenty of tree-swings to tie people up with. I think the likelihood that the series will truly get back to its roots is high – and with that, I believe, will come a Casey Becker-esque scene. I think there will absolutely be a New Drew – probably not besting but certainly coming close to the terror we saw in Scream's opening sequence.