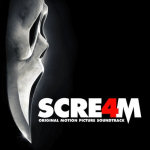 From early indicators, Marco Beltrami's Scream 4 musical score carries the creative maturity of ten years passed – Don't Mess With The Original has all the hallmarks of a long, winding chase scene that constantly ratchets up the tension before dialing back for a false sense of security. Jill's America is an epic, haunting track, bringing to mind loss and-coming of-age. It's clearly Emma Roberts' character's version of Sidney's Lament – in tone.
It hasn't been easy for every fan to get to listen to preview tracks for Lakeshore's soundtrack album, buried away in iTunes and country-locked, while an official clip on YouTube compiling brief audio from every track (including the only songs we haven't heard in full yet, Axel F by Raney Shockne and Denial by Stereo Black) carried spoilery photos. Hopefully the internet's #1 Scream website won't get slapped on the wrist for correcting all the issues and bringing them to you all in friendlier format. We'll see.
Updated – nope, all videos removed by Lakeshore.
The preview clips for Don't Mess With The Original and Jill's America run a minute and a half each, three minutes total – plenty of time to get acquainted with the aural world of Scream 4. The third party music acquisitions of the soundtrack will bring flavor to the film, but only the instrumentals reveal its true emotional design.
Subscribe to Scream-Trilogy's new YouTube channel.
Thanks to Wes Carpenter on the forums for assistance.
Pre-order: Scream 4 Original Motion Picture Soundtrack