This week has seen numerous Scream 4 videos posted, from scenes from the film itself to interviews, on-set footage and new TV spots. Here's a new video of in addition to our list of recent clips updated with superior quality and additional footage.
Scream 4 Cast & Crew Press Conference Video
Much of the basic ground is covered to re-educate the public but there are plenty of interesting quotes to be found in here, such as David Arquette on the complexity of "films within films" and Wes Craven stating he thought Scream 3 was a little too goofy and Scooby Doo. Thanks to Scre4mQueenGale on the forums for the find.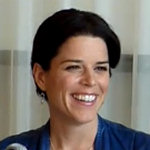 Multimedia Updates
Scream 4 Three Video Clips – updated with HD video
Scream 4 TV-Spot #3 – updated with HD video
Scream 4 TV-Spot #2 – updated with HD video
Scream 4 ET Coverage – updated with extended interviews
Scream 4 Cast Video Collection – updated with Hayden Panettiere video
Scream 4 Soundtrack Official Track List – updated with audio for Track #6
Neve Campbell
Wes Craven
Update – links fixed