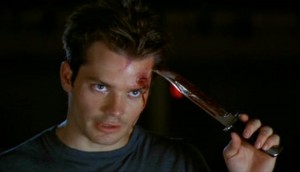 There are two words in any fandom that stop you cold in the middle of a read. Two words that can either incite fear or elation. These words are thrown in front of huge secrets, small tidbits, and even nonsensical facts that everyone knows in the idea that it will lure the reader into a place that they feel is special and secretive. Those two words are just like Pandora's box, begging you to go further but cautioning you to keep away. Those two words are the highlight of the day and then suddenly the bane of your afternoon. They're…
Spoiler. Warning.
That's right, my friends. The two words that you either love or hate – the idea that you're being introduced to privy information that should be kept at all times, secret. It's addictive, like good gossip, but also holds a double edge to it. Once you read the spoilers, you're subject to the truth (or an incredulous lie) and you can't unread it. Suddenly the mystery is gone and the excitement you've been building over the past year waiting for a movie, book, or television show's shocking twist is there in plain font lying unceremoniously on the page with little to no fanfare.
Without a pause – the elation is gone. Your excitement dwindles fast. Sure, now you know what happens – but you found out without any of the perks around it. You weren't on a ride, you were watching it from the sidelines and someone told you what it was like. Now, when you get on the roller coaster, you're going to know exactly what to expect when it comes.
The question that has been killing me all week: Are spoilers good or bad?
Do you read them? How do you find the will to stay away? I myself am a wimp when it comes to self control and the second I see a spoiler tag I open it without hesitation. Now, I know what you're thinking – if you feel so bad about reading them, why do you do it? It's a simple answer, really – I crave information. I like to be in the inner circle and in the know. Even though I know I am going to kick myself later I can't resist the idea of learning a secret that might alleviate the pressure of suspense building inside as I wait oh-so-impatiently for my movie to come out.
Even though I have read them, I feel like spoilers are terrible. You're taking a mass of people's hard work and creativity poised to keep the plot of a mystery a surprise for the sake of the audience and you're going to ruin that because you can't keep a secret? I know I am in no place to say anything as I am quite up to date on my spoilers for Scream 4 but still… it doesn't mean I can't still want to kick myself in the face for knowing.
What do you think? Up with spoilers and down with secrecy or do you prefer to have your mysteries just that – mysterious?