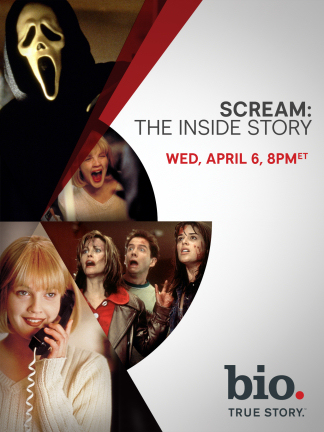 Perhaps not technically a poster, but we sure would purchase something like this to class up the office corner of Scream-Trilogy HQ. Daniel Farrands' Scream: The Inside Story has been something of a dark horse, working steadily behind-the-scenes to get a top-notch production onto TV screens. And today we have confirmation and airdates for the program, which is rumored to focus on the production of the first Scream.
The documentary will premiere on the A&E BIO Channel Wednesday, April 6th @ 8PM E.T. with additional airings scheduled.
In 1996, director Wes Craven unleashed Scream, a slasher flick that shattered box-office records for horror films and turned Craven and some hot young actors (Neve Campbell, Skeet Ulrich, and Rose McGowan) into overnight stars. In this two-hour special, we go inside the Scream story with all-new, exclusive interviews with cast and crew. Viewers will learn that Craven originally didn't want to direct the film, the production had to survive delays and objections to its violent content, and industry analysts predicted it would be a bomb at the box office. But Scream became a blockbuster and single-handedly revived the horror genre.
Source: Scream: The Inside Story