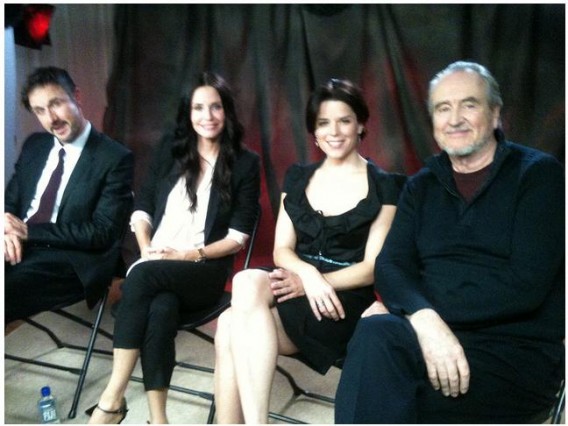 With only 21 days left before audiences return to Woodsboro, cast interviews have kicked into high gear as Scream 4 held its press junket on March 23rd in Los Angeles.  Assignment X attended the event and spoke with the Scream Alumni:  Neve Campbell, Courteney Cox and David Arquette.
When asked about Wes Craven, Courteney Cox spoke highly of the horror director and how he has evolved as a filmmaker – keeping up to date with the latest technological advances and social networking:
"He's an amazing filmmaker," says Cox. "He's so current on everything. I don't even know what MySpace is. He's watching things and learning. He's constantly bettering his mind and the way he directs Ghost Face and makes him turn his head. It's eerie. Wes is like a choreographer when it comes to Ghost Face. He's a great director."
David Arquette spoke loosely about the technology changes and how mingling with the new cast brought back memories from his days on the Scream set:
"There have been ten years in between with horror films and technology changes and it's really exciting," says Arquette. "With the new cast coming into this, it's interesting to see too. They are reflections of us when we first got there. It brings an electricity like we had on the first film and with this and now a whole new generation is going to [see this] and then discover the old stuff."
When Kevin Williamson first announced on his twitter that he was scrambling to come up with a "Sid-less scenario" for Scream 4 – we all knew there was no way another Scream film would work without our Sidney.  Luckily for Williamson, his story had a happy ending when Neve Campbell signed on for the fourth installment.
When Campbell spoke with Assignment X, her love for the character and determination to please fans were evident. "I had fun watching the films again before we started this to get a sense of it," says Campbell. "They held up well."  And if Campbell's hilarious outtakes from the original films weren't enough proof, she never fails to get a laugh in while on set.  "We were having fun during filming," says Campbell. "You're not feeling it's a dark experience. There's humor in them. Part of the fun of the [Scream movies] is that they are self referential and make fun of [horror movies]."
Zap2it also spoke with Courteney Cox, who compared her off screen relationship with Arquette to their characters. "Gale's just very campy, and I love her relationship with Dewey," Cox admits. "The fact that they're together is so funny. He's so earnest and she's so out to get ahead and it's just a very odd pairing and so are we — although we're not really, but we kind of are."
Cox gave Access Hollywood a play-by-play on how she and Arquette's relationship blossomed from Scream to this latest installment:
"We faked it pretty good in 'Scream 2' because I actually didn't like [David] at all and he didn't like me. Hate. Hated," she laughed. "[In the first 'Scream'] we fell in love. ['Scream 2'], hate. ['Scream 3'], [we were] married. ['Scream 4'], had a kid, but that wasn't introduced [into the plot]."
When Access Hollywood's Maria Menounos asked Campbell about Scream 5, she remained mum.  "I can't say whether I would be involved because I would be telling you what happens in this film.  I would imagine if the film does well, then they will want to make another one."  Campbell teased, "We'll see…it could be fun."