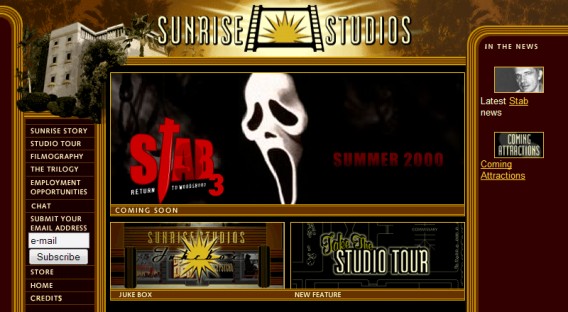 Did you know Billy Loomis' father Hank once worked at Sunrise Studios, the company that ruined Maureen Roberts and would later create Stab? That's just one of the many factoids to learn from Dimension Films' official Scream 3 website created in 1999, which contained background story and video footage from the fictional film world of Stab.
The recent Woodsboro Highschool site was an entertaining hoax, and it's rather late in the game for Dimension to release their own viral site, we would think. The Scream3.com site, archived by the design firm responsible for it, Chopping Block, is an opportunity to see what the digital initiative was for the last Scream released.
Conceived as an official website for Sunrise Studios, it offered up extensive data and multimedia on the Stab series such as cast & crew lists (Randy was right to be disappointed in the actor who played him, and funnily enough Stab has its own version of Kevin Williamson named Will Kennison) and details that flesh out minor plot points (revealing that the original Stab 3 director was fired under suspicious circumstances, leading to Roman Bridger becoming attached).
The main attractions were custom-shot trailers for the first two Stab flicks as well as other Sunrise's other b-movies. The Stab trailers were pretty down and dirty budget-wise, and several details would end up clashing with Scream 3 continuity, but overall provide amusement value at the very least.
As part of a developing storyline for the website, two sub-sites were released, one for Gale Weathers' Total Entertainment interviews and another for a mysterious unidentified hacker revealing the dirty secrets of the studio, many of which John Milton was tied up in. Those two are not officially archived, but the whole collection can be found on the OOP Scream DVD boxset if you pop disc-four into your PC.
View the Sunrise Studios online archive
We have a feeling some of the Stab info will become relevant again in the near future…