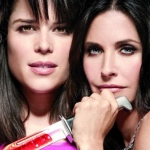 This is a heartwarming bit of news as we ready ourselves for this final month before Ghostface attacks again. Scream queens Neve Campbell and Courteney Cox — who both recently split from their respective husbands — finally "clicked" on the set of Scream 4.

Showbiz Spy briefly talked with Courteney, where she reveals how she discovered this friendship that she had "missed out on" all these years:
"I worked with her in the first three Scream movies and I liked her then but I really wasn't close to her," explains Courteney. "We were nice to each other and we socialized a little bit, but for some reason Scream 4 — that's when we clicked.

"I was like, 'Oh my God I can't believe I missed out on all these great years with you.' She a really cool, soulful person and I'm so glad I got to know her during this one."
The article then devolves into typical tabloid junk, but it's a nice bit of news while it lasts. In the first two films of the franchise, Sidney and Gale were frequently at odds with each other; and while they mended fences in Scream 3, most of Neve's scenes were away from the other core actors.
So can we expect more Sidney and Gale interactions this go around?