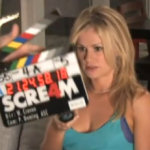 Is today video today? I think it's video day. Four official behind-the-scenes videos covering an even greater number of scenes being shot. The definition of spoiler continues to blur as Dimension release footage containing surprises many fans feel best left to the film itself. But we secretly want to see, don't we?
Shh, it'll be our little secret…
Here are the major chunks they break down into: Video #1 is the barn scene encounter that is getting more difficult by the day to keep terming a spoiler in light of its prominence. Video #2 has a whole lot of Anna Paquin and Kristen Bell, and both #2 & #3 feature lotsa Shenae Grimes and Lucy Hale. Extensive dialogue in both cases – very Williamsonish. If you have balls of steel to turn away… but still want a measure of experience, video #4 is the safest one to view.

Thanks to Delta Lamba Zeta on the forums for the tip-off.