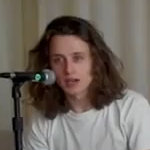 Last week you saw the core cast and crew take to the press junket to answer questions, now we get to see the new side's turn (also recorded last week). Well some of them anyway. Representing Scream 4: Hayden Panettiere, Rory Culkin, Emma Roberts and Anthony Anderson.
We're not quite sure who steals the show here. Culkin remains mostly quietly amused as if he's in on a private joke, and Anderson finally mentions the elephant in the room. No, not Emma Roberts blonde hair, but the ironic fact that he came from the Scary Movie series to Scream.
Supposition alert: Anderson isn't entirely consistent in his usage of the noun "killer" vs plural "killers" but we forgive him – there's no rulebook on this sort of thing nor had he been given the complete script when shooting.
Next up, the Canadian TV spot is our shakiest cam video yet but there's more forgiveness on tap because we did delight at the new scenes glimpsed. We wager "You better start running" will quickly rise to cult quote after the 15th.
Thanks to Scene70 & Jake, respectively.
Subscribe to the Scream-Trilogy YouTube Channel.