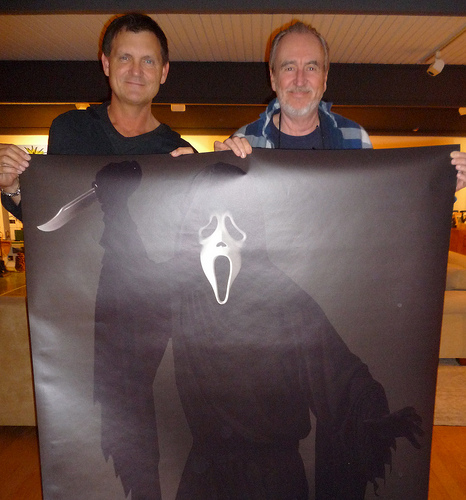 From Twitter texts to explanatory interviews, Kevin Williamson's name once again become newsworthy after a long silence — and those behind the scenes of Scream 4 want us all to know just how involved the writer was in the writing process.
The brouhaha started this week when our intrepid, never-miss-a-detail board members pointed out a few carefully tweeted tweets between director Wes Craven and the Scream scribe, revealing the duo has been in contact and that the busy writer hasn't abandoned the series.
From Williamson: "Fun chatting with you @wescraven . It was great catching up. Seeya soon."
A response, from Craven: "Same to you @kevwilliamson. Nice talking to you too. Thank you for the great script. #SCREAM4″
Twitter is a funny animal. It is sometimes a very public display of personal interactions, but these two guys had obviously talked prior to these tweets, when they would have said what was tweeted as a matter of conversation/etiquette. The fact it was broadcast in such a way seems — in this writer's mind — to be an attempt to remind fans how involved he was with the project and that there is no bad blood. Which doesn't make it any less true, if it is.
And as ShockTillYouDrop.com's latest interview with Craven shows, the director says Williamson's distance from the project was caused by his contractual obligations with The Vampire Diaries and not some hissy fit due to changes, as had been rumored.
"I talked to Kevin last night. I think he was trying to figure out what to say about the film to the press because there are rumors that something horrible has happened. He has not seen the movie. He's been completely immersed in Vampire Diaries. That was part of the reason he stopped being a writer on the film, but he did have a complete script. He had everything laid out for us. When Ehren Kruger came in, it was because Kevin had to contractually put his efforts into Vampires Diaries."
Wes elaborated on the nature of the changes made by Ehren Kruger and himself, echoing previous comments by Hayden Panettiere and Emma Roberts (who described the script edits as "nothing too crazy" and not related to plot so much as dialog): "Ehren did some great secondary work and some additional scenes that needed fleshing out," Craven clarifies. "And I did some writing, too, but this was Kevin's baby."
Craven mentioned that, unlike Scream 3 — an entry that was mired in rewrites and writing scenes the day of shooting — they entered Scream 4 production with too much script:
"The script was never bound to a lean and mean page count. It was always high," Craven said. "We shot a script that was a 138 pages or something like that, so we had a lot of scenes that had to go on the cutting room floor. Some were kind of redundant. Sometimes we were pointing too much at a character as a red herring."
But don't fret. You'll be able to get all the missing goodies on the DVD: "There are seven or eight scenes that will be on the DVD," Craven adds. "All the really good stuff was in the final film."
So what do you think? Is this all a PR stun to cover the truth, or did the online fandom truly take Williamson's silence and lack of involvement and turn it into something much bigger than is really was?
Update: additional Craven quotes via interview with Bloody-Disgusting:
"I kind of feel like those questions are kind of fishing for turmoil," Craven told us. "I frankly – and I say this in absolute honesty – have never heard Kevin say [he was upset]. So whether he said something to somebody else in an interview I don't know, but Ehren came in after Kevin had done the majority of the work, and he certainly…the whole idea, all the characters, all the basic situations and scenes, were [written] by Kevin before he left. A large part of the reason that he eventually had to leave the production was that his 'Vampire Diaries' show was starting back up, and the…network literally threatened to sue him if he didn't turn his full attention back to that.

"But at that time, we had all of the script that was really, really important, and it was a matter of massaging things based on the actual locations we were able to find and things like that. So Ehren Kruger came in and did a lot of very interesting work, but it's very much about Kevin Williamson's script…stuff [added during rewrites] related to…the action and certain other things that [were] changed because of locations and things like that. So you know, it's Kevin. It's Kevin's writing and his imagination that is on display there. And I'm sure…actually I'm speculating, but it must have been painful for Kevin not to be able to stay with the film. But the process of writing…had just gone too close to the beginning of Kevin's show, and at a certain point said he could not be there anymore."

[BD: Though I do believe Craven , it would still be interesting to hear Williamson's side of the story, especially considering the fact that he's been conspicuously silent on the upcoming sequel for quite some time now. As for the likelihood that either or both of them will return to the franchise for the next planned installment, Craven remained noncommittal.]

"You know, it's so far in the future. It's gonna be a year [before production would even start on 'Scream 5′] at least, I would think, because even though Kevin sketched out the general notion for '5' and '6', it was not like he had a…ten-page beat sheet. So it's gonna be a matter of if Kevin is of the mind to write again in this franchise, and when will we write? My approach to ['Scream 4′] in general…[was] I love[d] the element of Kevin, I love[d] the element of Courtney Cox and David and Neve…I knew everybody had pretty much signed up, but until I saw a substantial amount of the script I didn't say yes. So that's my approach: 'let's see the script, let's see what they come up with, and then I will or I won't.'"