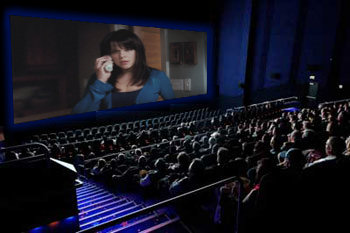 We're not trying to get your hopes up unrealistically, but box office tracking from Reel Source Inc. and various expert projections all peg Scream 4 to take in at least $50 million on its opening weekend — and more than $100 million overall.
A reliable poster on the Box Office Mojo forums posted that Reel Source claimed the film was trending to hit "low 50s" its first Friday, Saturday and Sunday. (April 15's other new release, Rio, is estimated to hit close to $35 million.) This means that Scream 4 could earn back its estimated $40 million production budget (not including advertising and distribution costs) its first weekend. Not too shabby.
The Numbers, an online box office data aggregator, says that, normally, by mid-April, the box office potential of the films being released tends to dry up as studios worry about the upcoming summer blockbusters. "However, this year, there are not one, but two [Scream 4 and opening-weekend pal Rio] films that have the potential to reach $100 million at the box office."
While agreeing with (or possibly copying) Reel Source's prediction of $50 million, The Numbers says the film has the potential to hit $105 million. "And if that does happen," the site concludes, "this film will be the first in a second Scream trilogy to hit theaters." (So we've heard.) BoxOffice.com makes a similar opening-weekend guess but is more optimistic in the long term with a $115-million total gross prediction.
To compare this third sequel to other slasher openings, board member KrissyKins posted the top five earners in the category (not adjusted for inflation) — all of which Scream 4 will surpass if its opening is even slightly lower than projected:
1. Friday the 13th (2009) / Opening: $40,570,365 / Total: $65,002,019
2. Freddy Vs. Jason / Opening: $36,428,066 / Total: $82,622,655
3. Scream 3 / Opening: $34,713,342 / Total: $89,143,175
4. Scream 2 / Opening: $32,926,342 / Total: $101,363,301
5. A Nightmare on Elm Street (2010) / Opening: $32,902,299 / Total: $63,075,011
BoxOffice.com also has a neat (but possibly completely irrelevant) Twitter Webwatch table, which has the third Scream sequel solidly in the lead with regards to Twitter buzz. (Thanks to board member Liver Alone for pointing us in this direction.)
However, despite its $50-million prediction, The Numbers cautions against associating buzz with big returns. "While a lot of people are talking about Scream 4, many of them are saying the same thing: 'Why?' It's been more than a decade since Scream 3 came out and that film wasn't exactly a critical success. Plus it was the weakest installment at the box office, failing to crack $90 million despite having the best opening of the three films."

I understand big buzz doesn't equal a big return (just look at Sucker Punch's Twitter buzz ranking of No. 3 for a case in point), but I don't believe it's as negative as that. But we'll just have to wait and see, won't we?