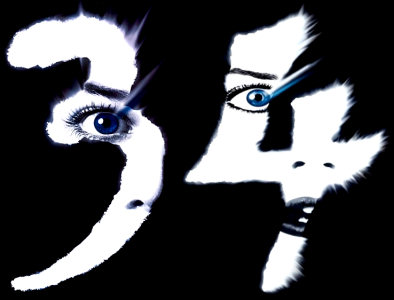 A friend of mine said to me yesterday: "why do you keep posting links on your Facebook page about Scream 4? Don't you want to be surprised when you see it? You're going to ruin it for yourself." The thing is, I purposely check online for Scream 4 news, pretty much every day now that we are literally in the final four weeks leading up to its release. No one forces me to do it. I do want to know what interviews are happening right now with the cast and crew; I want to know when the TV spots are released; I want to see the publicity photos that are being put out for the public to see.
But then I'm reading comments that people are posting about how this is all spoiling the intrigue leading up to the film. And I hear my friend asking me why I'm interested in seeing images that pretty much show how someone in the movie dies. And I do see where these people are coming from.
Scream 4 is being released in a totally different time to Scream 3. It's frankly amazing at what a difference a decade makes. I remember hearing rumours about Scream 2, when it was in production, about the script being somewhere online. But I barely knew how the internet worked back then (granted, I was 13, but still…) It would never have occurred to me to go online and actually look for the script, even if I'd wanted to. When Scream 3 was due out, I remember simply waiting for its release, not necessarily searching for information about it. I remember seeing the famous teaser poster (the jagged "3" with Sidney's eye in it) in – wait for it – a cinema. I remember buying May 2000's issue of Total Film, the month before Scream 3 was released, and learning all about the production from that article. And that was the first time I'd read any of the behind the scenes story or seen any images from the movie. I think they only published something like three stills in it – a shot of Gale & Jennifer, a shot of Sidney and a shot of Sarah being stalked on the phone. But these images gave absolutely nothing away. Even the Scream 3 trailer was evasive (which I saw for the first time on the special edition DVD of trailers that came with that issue of Total Film). I believe I even went to see Scream 3 not knowing where the movie was set or the basic premise.
So – ten years ago, we got Scream 3, and the mystique around it was greater. But that was a different time, and I believe that the diehard fans out there, who are the ones most likely to be reading this, should embrace the age we live in now, in terms of what we can and can't have access to.
I personally feel that the run up to Scream 4 has been about ten times more exciting than the lead up to its predecessor because of what we can read about it online. Sites like Scream-Trilogy.net, and the like, have enabled us to receive morsels of Scream 4 information over the past few months. What we have been given are appetizers that simply feed our curiosity to the main event. And if you really think about it, we're not seeing anything devastatingly spoilerific. Commentary from Wes Craven doesn't ruin anything – we want to hear things straight from the director's mouth; and after all, it's his project, he wouldn't want it ruined. So when he tweets photographs and partakes in interviews, we know he's not going to give anything major away. Stills are released by the studio in most cases – no-one else. Teaser posters simply feed the excitement. And trailers just give us actual action – but its all stuff that we want to see!
Admittedly, there are some photos that have been released this week that A) show how someone dies and B) you can work out who that victim is (if you look back over the trailers); but as long as it's only one of two snippets, then the fans should be okay with that. From what I've seen this week, I'm quite glad to know that Craven/Williamson have upped the gore stakes back to the same level we saw in the original Scream. This simply adds to the anticipation for me.
Okay, so we've been told who dies first apparently. And we have seen plentiful pictures from dozens of scenes in the movie. This perhaps shows us a lot of what to expect. But frankly I couldn't tell you what exactly is going on in all of the stills that have been released and I find it exciting to be able to play guessing games in the run up to the film's release.
As an end point, as long as no-one somehow manages to post who the killer is, who dies and exactly how the plot evolves, then I'm happy with all these teasers. I want to be teased! It adds to the fun. Online communities can chat amongst themselves, speculate and get excited together. We can throw ideas out there about what's going on in a certain clip or still; we can gossip about what we think a particular hazy interview comment means. But this is all harmless fun, and it's something to do while we wait this agonizing last month before the movie hits the screens. I say embrace the circumstances that Scream 4 is being released under, in comparison to the less informative time that was the year 2000. Like the new tagline says: New Decade, New Rules…