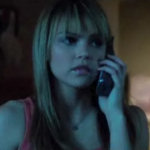 While we wait on HD for the 2nd Scream 4 TV-Spot, the 3rd one has already debuted in relative HQ via Yahoo. We know, it's like someone hit fast forward on the promotion machine.
Now, #3 applies the rule of thumb that each successive TV spot should have less and less new footage. But we're nothing if not completists.
<
Thanks to Lovett for the tip-off.