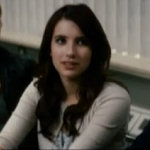 You know we're staring down the barrel of the Scream 4 release when not one but three scenes appear in video clip form.
Bloody-Disgusting debuted these little treats which cover a large cross-section of both new and established characters. Don't mind the "spooky" music, from experience watching Scream 3 hit the television press circuit, this is done purely for the clips so that Joe Blow understands its a horror movie.
Now that we got that little factoid out of the way – enjoy!
Clip #1: Interogation

Clip #2 Boyfriend

Clip #3 Work Together