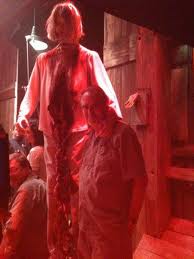 In an informative new interview, Wes Craven sheds new (carefully worded) light on how the world of Scream has adapted to video and social networking, the new style of horror that has emerged since Scream 3, and a welcome affirmation that Scream 4's secrets have been kept safe.
In what is a nice (likely unintended) response to his recent comments about the film's publicized script changes, he raves about the production:
He appreciated being back in the "Scream" universe, Craven adds. The young cast members energized him, and he enjoyed once again working with Arquette, Campbell and Cox, as well as fellow returnees writer/producer Kevin Williamson and Dimension Films boss Bob Weinstein.

"It was heady," Craven says. "It was fun. It's a really great concept. The talent that we were encouraged to cast and who were paid for by Bob, who wanted just a first-rate production, were a joy to work with. Really, we had just some wonderfully talented people. As a director, you can't hope for more than a great cast and a great script, and I think we have both.
Craven also addresses the advent of new, more sophisticated communication technologies since the end of the first trilogy:
"One of the biggest changes is the rise of social networking. Kids are communicating through texting, tweeting, e-mails and Facebook. It's all about the Internet. That's part of what's happening in the world now that really wasn't in full force yet when Scream 3 came out, and it's something that Scream 4 addresses. Plus cell phones, of course. That extension of our culture is now very much a part of the film. YouTube is another example — any kid can make movies and put them on YouTube."
The director is coy to reveal too much about the storyline:
I'm not going to fill in too many blanks, because that's for people to discover when they see the film. We're being closed-mouthed about it. We've so far avoided major spoilers and the script showing up on the Internet, which we'd experienced on previous 'Screams.'
Most interestingly, perhaps, is how Craven says the new film takes the classic horror trope of the surviving virgin and turns it on its head.
"Virgins die, yes," Craven says, laughing. "That's just an observation from movies made in the past 10 years, especially recently. There's an advance of cynicism, or a breaking of the clichés, that innocence does not guarantee you that you are going to survive as, say, Nancy did in 'A Nightmare on Elm Street.' Sid survived the first three 'Screams' because of a very austere lifestyle, but that doesn't guarantee that you're going to be alive at the end of this film.

"In general, without getting too heavy-handed, it's a statement that we're all susceptible to the violence in life," the director says, "and it doesn't matter what you believe or what your morality system is. It's whether you're in the wrong place at the wrong time, sometimes, or whether somebody's just set their sights on you, or even that your innocence is annoying and makes you the target, because evil hates innocence."
And finally, Craven on how horror has changed in the past 10 years — and how it affects the film:
"And I would say that horror films have changed a lot too," the director continues. "There's been a decade of very heavy … what's called 'torture porn.' I don't like using that term, necessarily, but there have been a lot of films about torture or tormenting or people suffering great pain. Also we've had a lot of little ghost girls or, as one character in 'Scream 4′ says, the whole thrash of American remakes of Japanese ghost stories.
There's more Scream 4 details from Craven in the full interview at My West Texas.