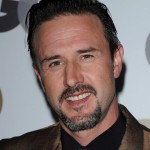 Like the character he portrays in the Scream films, David Arquette wears his heart on his sleeve.  The actor recently spoke with San Francisco Chronicle about his time on the Scream 4 set and revealed how the new film shares some similarities to the original:
"'Scream' and 'Scream 4′ play off some of the same rules and techniques of storytelling. (The new one) goes back to a similar tone as the first one," he says. "Not only is it back in the hometown, I'm back in the uniform. We have this new cast of kids who are experiencing what we were experiencing the first time around."
If you've been wondering what Dewey has been up to since popping the question to Gale Weathers in Scream 3, Arquette offered up this tidbit about his character:  "During that 10-year time period, Dewey's finally gotten the respect he so desired," Arquette says. "He's kept the town safe for 10 years, and now all of a sudden it's starting back up and he starts to unravel and lose control, scrambling to hold onto it all."
Arquette delved into his personal life and shared some his milestones – from the brighter moments to the more tragic. "I met my wife on the first one, we were married by the third one and by this fourth one we'd had a child together. Within that time period, I also lost both my parents. So the most significant milestones in my life have been during this time," he says quietly.
"It's really weird. I've changed even since making this film. Tremendously. I went to rehab. And what happens there is you go through intense therapy and meditation and yoga. If you choose to be really honest about it and really look at yourself and ask yourself the hard questions, it's like getting three, four years of therapy in a 30-day period. And all the self-help books you read – it's opened my eyes."
And just how honored was Arquette to step back into the role that garnered him success?  "What's cool about it is seeing Sidney again, and Gale, Courteney's character, coming back to life and having the same qualities they had originally despite the difference in the way we appear or behave or whatever," he says.  "We're doing scenes where I'm seeing Sidney for the first time in 10 years (essentially) – there's a reality there that you can't really put a finger on. I'm in such a place of gratitude right now that it's humbling."
Source: San Francisco Chronicle