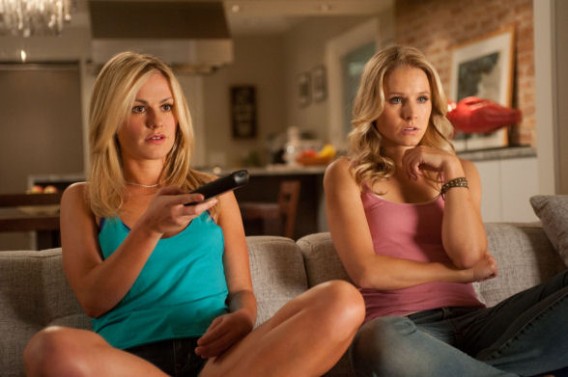 Read the roster of character names as they appear in the Scream 4 film credits. It's true the list in order of appearance is already "out there", but we've arranged them alphabetically by actor name so as not to spoil plot events like the opening scene.
Anthony Anderson – Deputy Perkins
David Arquette – Dewey Riley
Kristen Bell - Chloe
Justin Brandt – Film Geek
Alison Brie – Rebecca Walters
Adam Brody – Deputy Hoss
Neve Campbell – Sidney Prescott
Courteney Cox - Gale Weathers-Riley
Rory Culkin – Charlie Walker
Dane Farwell – Ghostface
Shenae Grimes – Trudie
Lucy Hale – Sherrie
Roger Jackson – "The Voice"
Marielle Jaffe - Olivia Morris
Erik Knudsen - Robbie Mercer
Mary McDonnell – Kate Roberts
Gordon Michaels – Deputy Jenkins
Nancy O'Dell – TV Host
Hayden Panettiere – Kirby Reed
Anna Paquin – Rachel
Emma Roberts – Jill Roberts
Brittany Robertson – Marnie Cooper
Marley Shelton – Deputy Judy Hicks
Aimee Teegarden – Jenny Randall
Nico Tortorella – Trevor Sheldon
Yes, Ghostface has a credit in the cast list now. All we can say is, it's about time.