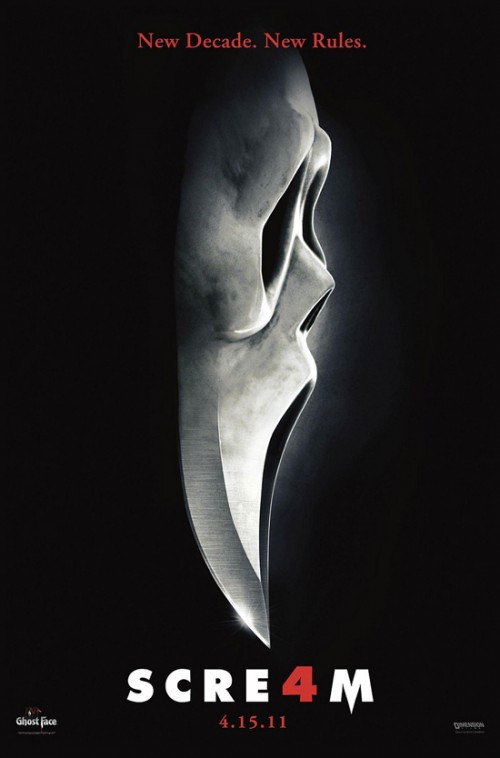 Update #3: Deadline are reporting Scream 4's Saturday take as $7Million, which is one under Friday's $8M, and $19.5M is now the weekend estimate. Hopefully it reaches 20.
Update #2: Zap2It report Scream 4's opening day take as 8 million, #2 behind Rio the talking bird movie. "Scream 4," meanwhile, was a bit of a disappointment on its opening day. The latest installment in Wes Craven's meta-horror series made $8 million to finish in second — not a bad start, but lower than what most box-office watchers were expecting. It's expected to make in the neighborhood of $20 million for the weekend, which would put it well behind the openings of both 1997's "Scream 2″ ($32.9 million) and 2000's "Scream 3″ ($34.7 million).
Update #1: Deadline's Nikki Finke has edited her optimistic article with an abrupt flip flop towards the negative – now saying "Before Scream 4 was released this weekend, tracking indicated an opening in the mid- to high $20sM for this 4th film in the Scream franchise which comes 11  years after the 3rd film. But based on Friday's grosses and weekend modeling, it may not be able to move past even the lower end of predictions."
"…Maybe the entire franchise should have been reworked. The result is that Scream as a franchise has just a little life left in it even though the Weinsteins kept insisting for the past year that it had a lot." -11PM
If you haven't already, get out there and see Scream 4 – if you already have, there's nothing like a second viewing! Take your friends! Let's make this a success!
Original Article
Ghostface and Co. are still a force to be reckoned with in the box office! Deadline's Nikki Finke is reporting that Scream 4 is currently overperforming in the box office for the #2 spot! The fourth installment in the horror franchise was expected to pull in $20-25 million for the weekend.
Scream 4 is [an] overperformer, looking to move past its low- and even mid-$20sM predictions for the weekend to probably reach $30M. The Miramax/Dimension/Weinstein Co's 15-year-old Scream franchise kept the formula that made it so popular in the first place — including producer/director Wes Craven, screenwriter Kevin Williamson who bailed mid-production because of Weinstein meddling, and original castmembers Courteney Cox, David Arquette, and Neve Campbell — then added Hayden Panettiere and Emma Roberts (Julia's niece and Eric's daughter). The result is that Scream 4 still has plenty of life in it in those 3,305 theaters.