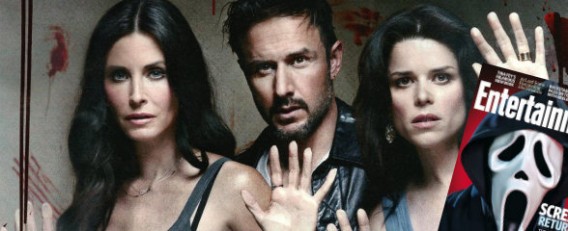 Some lucky readers are already getting their bloody mits on Friday's Entertainment Weekly, and here's the complete rundown as well as a new official still of Gale showing Deputy Judy Hicks (Marley Shelton) which Riley really calls the shots in Woodsboro.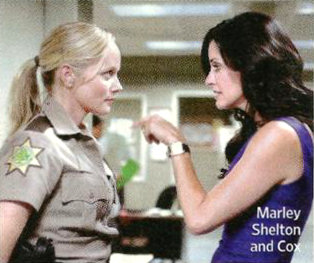 Apart from the revelatory information you've already heard from Kevin Williamson himself via EW in the last 24 hours (see our previous article), below is our summary of new info:
Summary
-Kevin Williamson's breakthrough in working out a storyline for Scream 4 was when he realized bringing Sidney back to Woodsboro would allow Gale, Dewey and a bunch of new teens to all appear
-When he called Weinstein to pitch the storyline, he already had the plots of Scream 5 and Scream 6 pieced together
-One early draft of Scream 4 had Sidney attacked in the opening scene, it was a key problem for Bob Weinstein who wanted it changed
-In another draft Gale and Dewey had a baby but that was another change they wanted because of the awkward nature of a baby around dead bodies
-Everyone wanted changes because they wanted it perfect and that's why Kevin and Weinstein's arguments increased
-Many people close to the production including Neve Campbell were never clear on what was happening with Kevin and the script, she says she was never given a very straight answer
-Neve also says the shoot was stressful because of the changes to the script but says she's really pleased with how the film ended up, all things considered
-The shoot date being pushed back to June and Courteney's Cougar Town schedule caused the time crunch for Kevin to get the rewriting done
-Weinstein was the one to bring in Ehren Kruger, who worked on the film as a favor and "punched up" the dialogue, but had a much smaller workload than on Scream 3
-Rewriting was still going on during filming. Wes Craven wouldn't receive script pages until the night before, or actual day of, their filming, and found that stressful at times
-It was hard for David/Courteney to be filming a script about a married couple with relationship issues while behind the scenes the plot was mirroring their own lives
-The result of test screenings were that two suspense  scenes (featuring Aimee Teegarden and Alision Brie respectively) weren't coming off as strong as they were supposed to so that's why the additional filming was done
-Craven says he'll need to see a finished script before he signs up to Scream 5 (of course, he said the same thing about Scream 4 after Cursed. We hope he finally gets a break with a smooth shoot on the next one!)
-Weinstein justifies the script changes with the fact that Scream is considered the definition of Dimension
-Weinstein also says he is over the moon about the film and wanted to deliver for the fans
Our basic descriptions are of course no match for the real quotes from the real people, so we suggest you chase up the new issue of EW magazine for a great read, including fantastic photo shoot pics of both new and veteren cast members.
Thanks to ISeeTheMaroon from the forums for the image