With the premiere of Still Screaming: The Ultimate Scary Movie Retrospective in Los Angeles last night, Scream-Trilogy has been given the go-ahead to share these delightfully garish "retro" inspired postcards given to attendees.
Producer/director Ryan Turek outlines the visual concepts for us:
"The art is featured in the doc and was created by Tim Seeley. They open each segment of the doc in an animated fashion. What I wanted to do was apply Scream to old school slasher movie posters. Posters for films that had an influence on the franchise. So, for Scream, we did a riff on Halloween. For Scream 2, it was The House on Sorority Row. When I got to part 3, I decided to eschew the slasher reference and go right for a spin on Scooby-Doo, since we actually have a few folks involved in part 3 talking about how "Scooby-Doo" the third entry was."
Distribution plans for Still Screaming have not yet been announced but from what we've heard on the grapevine, the doco has been picked up by new-school Miramax.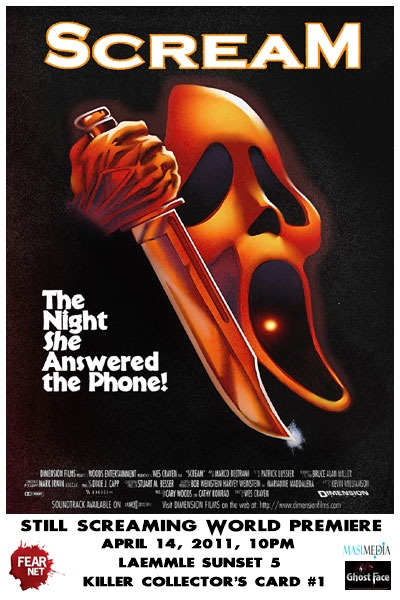 More on Still Screaming as it develops, naturally. For point of comparison, here are the original posters homaged for the first two. Halloween (1978) needs no explanation for its influence on Scream, but House on Sorority Row (1983) is the finest campus slasher ever made, and referenced by Randy in his Scream 2 "favorite scary movie" phone spiel.