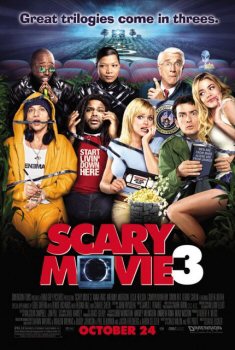 Tip your hat to Wes Craven. Like the Scream 4 cast members he's doing the press rounds, but as director many of the promotional responsibilities are on his shoulders. And he manages to give thoughtful responses to every question. Here are four broached topics in recent interviews that struck us as particularly quote-worthy!
1. Scary Movie is partially responsible for the ten-years distance of Scream 4.
Was there any apprehension about bringing Anthony Anderson into a Scream movie, after he'd already been in the Scary Movie sequels?

Wes Craven: My ignorance in answering that question reveals that I didn't know he was in Scary Movie. I think, more than anything else, with the Scary Movie factor, we very carefully watched the humor in the film so that it was not silly humor, or farcical. We wanted to keep Ghostface real, and lethal. Not goofy, or have him do things that were done in that particular franchise. We were very aware of that part of the legacy. I think that was part of the reason why Bob Weinstein waited so long before doing another straight version of Scream. There had to be enough time gone by since the last Scary Movie.
2. Craven is done with Freddy Krueger. Really, really, done. It must be painful to divorce yourself from a creation of your psyche.
We've seen you return to Scream. You were involved with the remake of Last House on the Left. Any chance, now that Platinum Dunes completely failed in their attempts to bring Freddy Krueger back to the screen, that you would ever go back to A Nightmare on Elm Street?

Wes Craven: No! I have no ownership in it. The original people I did it with are all gone. If you have no control or ownership when it comes to those things, and its being taken over by other people, you tend to lose interest. There are much more creative situations that I can get myself into, rather than a situation where I would be working for someone else who is exploiting something I created. It wouldn't be a very happy situation.
2. Ghostface's brutal attacks achieve more realism in Scream 4 thanks to Adobe Aftereffects (or such).

The director also employed computer-generated effects for the first time in a "Scream" film to give Ghostface's weapon of choice a 21st-century makeover.

"The only options you have are a rubber knife, which looks silly because it wiggles, or the collapsing knife, which occasionally doesn't collapse the way that it's supposed to," said Craven. So he added the knife's blade after filming, which meant Ghostface could stab victims without any inhibitions while the actors stayed safe.
4. After Scream 4, Scream 5 will go supernatural, then the Olsen sisters will be the killers in Scream 6 (We kid! He kids!).
The franchise's rebirth leads to the inevitable question: Will there be more sequels? The latest installment, much like the first three films, doesn't end with a cliffhanger and Craven said the tone of another "Scream" film would ultimately be up to Williamson.

"Kevin has a very fertile mind," said Craven. "There's always ways to continue the story. There are people that survive, or there's always ghosts or evil twins."