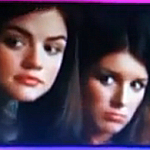 Updated with higher quality. We've got a lot of Scream 4 video action today so let's get to it. Fifth clip! Just aired on Chelsea Lately. Listen to that Williamson dialogue roll off the tongues of Shenea Grimes and Lucy Hale. Delicious! Thanks to Charlie for the tip-off.
Canadians do it better! At least that's the impression we get after the past 24 hours. Yesterday's TV Spot was the best one since US spot #1. We're still waiting for HD on that but Canadian spot #2 already leaps up out of nowhere – and already in HD too. Classy.
Neve Campbell on The Marilyn Denis Show: here's a link to the full show – we haven't had a chance to watch this yet, so you're on your own as far as a timestamp goes.
Update – an extended version of the fourth clip starring Aimee Teegarden was shown during Wes Craven's appearance on Jimmy Kimmel tonight. Now in it's own article.