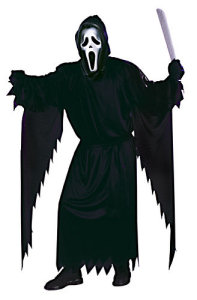 Announcing the results of our Scream Giveaway in partnership with HalloweenCostumes.com! The following Scream-Trilogy visitors will walk away with either a Adult Ghostface costume or a Ghostface mask.
Grand Prize Winner: Alan (costume)
Runner-up Winner: JRT (mask)
Runner-up Winner: Kyle (mask)
Runner-up Winner: Vincent (mask)
We'll be in communication with winners shortly regarding getting their prizes to them.
Thanks to the 120 or so entrants and look for more contests in the future! What sort of methods and prizes would you like to see in further contests?