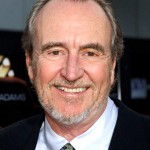 If you most of you thought the Scream 4 trailers/tv spots revealed a tad too much – Wes Craven agrees with ya!  The Scream 4 director has joined MTV Movies Blog this week, and delved into what necessary ingredients are needed in order to create an effective horror movie trailer.
"I think the studio in general — and not just the studio, quite frankly, but most studios — feel that the audience will forget exactly what they saw in that trailer when they get into the movie theater," he said. "I think that's probably a mistaken notion. But on the other hand, you can't just show talking scenes where nothing happens."
"In some cases, we showed scenes where people are getting attacked but they survive or evade death, just throwing things out there to keep a bit of the murder mystery alive," said Wes. "In some cases, we have attacks in the film where people can't get away completely free. We feel those kinds of situations are sprinkled throughout the trailers. So anything that people might see might or might not show the demise of a character. In that sense, we tried to leave it so that you'd see something exciting, but you don't know exactly what's going to happen. It may or may not turn out exactly how it looks like it's going to turn out when you see it in the trailer."
And Craven even gave his two cents about some of the more revealing portions of the trailer we have all seen.  "I have to say there were a couple of times — quite recently, in fact — where I said, 'Why don't you give the whole movie away?'" he laughed. "With Adam, well, okay, now we know he gets attacked right there at the car."
Craven concedes there was a pivotal scene he insisted be removed from one of the earlier trailers!  "The dance number of Ghostface with Neve dressed as a polar bear, I insisted that that be taken back out of the trailer," he laughed. "Look for that in the very last trailer!"
Scream 4 hits theaters next Friday!
Source: MTV.com