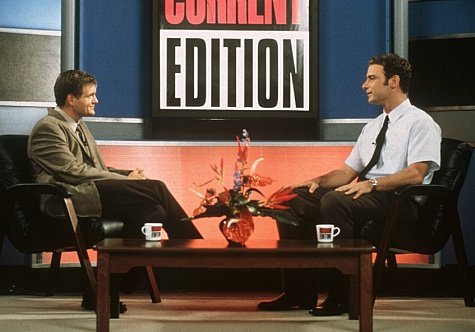 Entertainment Weekly's upcoming cover story "the bloody battle for Scream 4″ seemed an odd choice of hyperbole which we now understand should be taken at its most literal. Hitting Friday, the latest issue grants us the most whitewash-free official comments yet on the events leading to Kevin Williamson's disconnection from all things Scream.
As it's too hot to keep under lock till the mag hits stands and someone else dictates it online first, EW have dropped the most burning info themselves! Here's the preview including the first ever comment by Kevin Williamson about Scream 4 in roughly one year.
Fans should feel lucky that there's another installment arriving at all, given how easily Scream 4 could have fallen apart. As they reveal in this week's cover story, screenwriter Kevin Williamson and Dimension Films co-chairman Bob Weinstein clashed repeatedly and vociferously over details, resulting in a script that was in flux throughout the shoot. "I always prided myself on coming to the set with a shot list," says Craven. "But quite often we'd literally get pages the night before, sometimes the day of. That part was very stressful."

"Everyone was second-guessing everything, because everyone wanted it to be so perfect," Williamson recalls. His arguments with Weinstein intensified over the months and ultimately came to a head. "Oh, I got in a big fight with Bob," says Williamson. "We got into a massive fight creatively, and we hugged it out and then we moved on." Weinstein, however, claims that the bitter disagreements had to do with looming deadlines. "It was a time crunch," he says. "I think the only real fight was not creative, but, 'We gotta get this goin'! It's a train. It's moving.' From my point of view, that was our only source of tension." (He and Williamson have not spoken since. At the time he was interviewed, Williamson still had not seen the finished film. But both men insist there's no bad blood between them.)
The preview – which you can read here – also excerpts some points about the David Arquette/Courteney Cox breakup and promises "more on the battle over Scream 4 plus a look back at the original Scream with memories from Arquette, Cox, Campbell and Drew Barrymore".
Thanks to Kevork, and everyone else who alerted us to this! Sleep is for pussies!