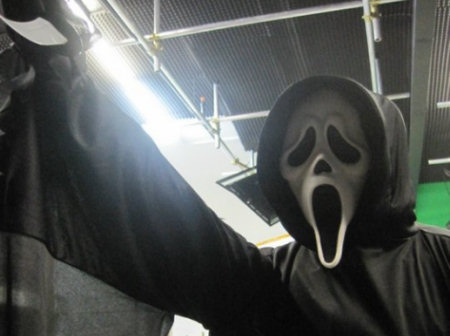 Inside Story: Scream airs tonight @ 8PM on the BIO Channel after a successful public premiere last night in Los Angeles. Scream-Trilogy spoke to the creative team this week, and now in part two we talk production challenges and fan participation, among other topics.
Our guests are once again – Daniel Farrands: Producer/Director, Thommy Hutson: Producer/Writer and Lito Velasco: Associate Producer/Music Supervisor.

Scream-Trilogy: Were there any particular challenges for you during the making of Inside Story: Scream?
Dan Farrands: Like any show, time is never on your side but that isn't so much an issue when you hire the right people for the job. Thankfully, many of our key team members from Never Sleep Again came back to work on this show so there was already a level of comfort and confidence going into the project. Probably the biggest challenge was waiting to see what would happen with the sale of Miramax, which at the time we started working on the show was still owned by Disney (Miramax still controls the rights to Scream, Scream 2 and Scream 3. Early in the process of shooting interviews and editing, it was announced that Miramax was being sold off to a new group of owners. So as that deal slowly transpired over a period of several months, there were naturally some anxieties on our part as to whether we would be able to get clearance to use the film clips and photos that are obviously so crucial to telling this story. Fortunately, once the sale of Miramax was complete the new owners were extremely receptive to us and made it possible for us to have access to all the film footage and behind-the-scenes material we needed.
Thommy Hutson: There were moments as a writer when I thought, "how am I going to make this interesting" or "you mean I have to script a whole, new segment!?" Honestly, the biggest challenge on almost every project I find is time. It can sometimes feel like the biggest issue. You can always use more time. But, you have a deadline and you have to meet it so you muster all your energy to keep the train moving. That's where the writer/producer roles clash in me: I only have so much time, but I want more to finesse a segment, or fix a logistical problem in the production. I have to crack the whip on myself!
Lito Velasco: Biggest challenge: de-stressing. [Laughs] It's tough doing a show of this scope and with the kind of ambitions we had when you have such a small crew. But, as with Never Sleep Again, we all rose to the occasion. We knew our "roles" and what was needed, and no matter how long we had to work on any given day, or how few days off we had during the process, we did what it took to get things done. A special, huge shout out to our incredible editor, Michael Benni Pierce, and our fantastic composer, Sean Schafer Hennessy: these guys worked under much duress and with some rough deadlines and both produced what I consider to be their best work yet, in my opinion.
S-T: How important was the fanbase to what you were doing?
Dan: Never Sleep Again was truly a show made by fans for fans, and this one was no different. We really approached this from the point of view of the fanbase, and of course general audiences who may not know much if anything about Scream. There's always that balancing act of telling the story so that anyone who tunes in will be able to follow along while always digging deeper for new stories that even the hardcore fans may not be aware of (which given the amount of inside information that's shared among fans on sites like yours is a challenge unto itself).
As with "NSA," early on, we put the call out to fans on various websites asking them to send us their personal photos with Scream cast members, and if we used them in the show they would get a credit — and that's what we did! There are just so many fans with such intense knowledge of and passion for these franchises, it would be foolish and arrogant not to reach out and ask for their help and participation. The fan sites were not only great resources as we developed the outline for the show, but their excitement and passion for what we were doing really kept us motivated to make the best show we possibly could.
Thommy: We wouldn't be doing this if the fans weren't important. We tried to keep in mind that this is an oft-spoken about film, there aren't a lot of true "surprises" in terms of behind-the-scenes material (though, we did find a few gems, I think!) since it's been covered so extensively. But we knew there was a way to get in, tell this story in a fast-paced, visual, fun and informative way that fans would embrace and want to watch. I'm a huge Scream fan myself, as is our Associate Producer Lito, so he and I would often talk about the moments or things that should be hit, have been hit too much or haven't been hit enough. I think it's a good, entertaining balance that, I hope, fans will appreciate.?
Lito: I've said it before and I'll say it again: I have always been and will always be a fan first and foremost. Hell, the reason I got involved with such amazing creative people in this genre is because of that fact: I met Dan Farrands at a Fangoria convention and the rest is, as they say, "history". Every time I get to work on an amazing project like this, I remind myself: "You are where you are because of your passion as a fan of the genre". To this day, I stay connected to that fact through forums, websites, conventions, etc. I still am that person; I've just been able to work on some incredible shows. So, the fanbase is always very prevalent in my thinking and motivation.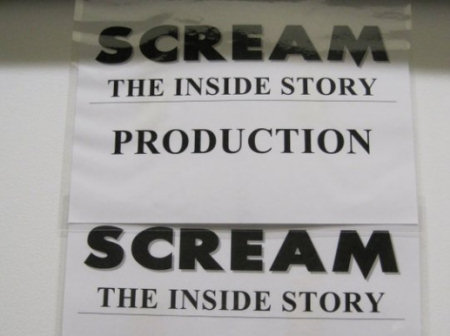 S-T: Can you share a favorite personal anecdotes from throughout the process?
Dan: I love that we had the amazing production designer behind the Nightmare on Elm Street films on our team. CJ Strawn (and her incredibly talented brother Mick Strawn), along with set dresser Christopher Gray, all worked on the Elm Street films and they built the incredible sets on which we shot the majority of our interviews. We first met CJ when we interviewed her for Never Sleep Again and went on to work with her and Christopher on an indie film we shot last summer called Trouble with the Truth starring Lea Thompson. It just goes to show that relationships are everything in this business, and it was just awesome to have the team who was responsible for the look of the Elm Street movies making sets and props for us — right down to the Woodsboro High School sign and the old swing that we see hanging from the tree in front of Casey Becker's house in the opening sequence of Scream. They created a great look that really made the interviews look even that much more special. And, purely from a fan's perspective, it was a fun blending of two horror worlds!
Thommy: Just to be able to cover a film I truly enjoy and bring a new twist on the story was a highlight. There is always so much going on, not enough time to do it, scrambling to keep things together, that when you have a moment like now to look back it's really gratifying to have been able to bring this to life. That, and maybe everyone not killing me for asking "is so and so done?" and "did you take care of so and so?" over and over again.

Lito: My favorite personal moment would have to be getting to spend a few minutes of one-on-one time with Wes Craven right before he filmed his interview. As always, he was kind, generous, and humble. The man is honestly one of the most gracious gentlemen I have ever met not only in the entertainment business, but also in my lifetime (and I mean every word of that…I'm not trying to "suck up"). The guy has always been – to me – the Master.
S-T: Walk us through your parts in post-production…
Lito: My part in post-production involved the day-to-day duties that go along with making a show like this: archiving/cataloguing/organizing photos and original artwork, offering input as to the current draft of the script and edits of the film, creating and maintaining logs, procuring materials for B-roll, contacting performers from the films we used clips of, etc. Don't get me wrong: I enjoy producing and realize how absolutely fortunate I am to have had the positions I have and don't want to seem ungrateful. But in many ways, producing really is a whole lot of "busy work". The most gratifying part of post-production was my duty as music supervisor. If I can "toot my horn" (no pun intended) for a moment here: I studied as a performer and composer at two of the best music schools in the world (The Juilliard School, the Indiana University School of Music) and have been a lifelong devotee of film scores. So, I felt like I'd been prepping for the position my entire life. And given that I know the incredible Scream scores of Marco Beltrami backwards and forwards, and that I was lucky to be working with a humble and incredibly talented composer in Sean Hennessy…I felt like I had the best job in the world at that given time. Now if only John Williams would call me… [Laughs]
S-T: Do you plan on seeing Scream 4, if you haven't already?
Thommy: Absolutely! I am thrilled to see what's in store for Woodsboro!
Lito: Are you kidding me? I have a Scream 4 countdown (which I've included a picture of) on the dry-erase board in our kitchen! I'll be there at the midnight screening in my area and probably go see it another two times later that day! [Laughs]
S-T: What are your final thoughts on the whole experience of making Inside Story: Scream?
Dan: It was just an honor and a pleasure once again to be able to interview Wes Craven and everyone associated with the franchise. Everyone we met was giving, thoughtful and just really fun to talk to. I'm even more grateful to everyone on our crew, who somehow managed to survive what might have been the most daunting documentary project of all time with "Never Sleep Again," but who willingly came back for another round of punishment! I hope the fans appreciate it and that it gets everyone as primed and excited as we are for the release of Scream 4.
Thommy: I love the film and am really proud to have been able to bring its story to life. Making any kind of movie is never easy and delving into the trials that Wes, Kevin, Dimension and the cast and crew went through to make a movie that, at the time, no one knew would be talked about for so long after, much less spawn a huge, hit franchise is really gratifying. It's a fun, informative look at a movie and a character that literally changed the face of fear. It made scary movies fresh and exciting again. Kevin wrote something truly unique, scary and fresh and Wes brought it to life as only he could. To feel a part of that, in even the most peripheral way, is a nice feeling.
Lito: As I've said in other interviews, no matter how tough some of the days spent making this film were…how much could we all really complain about our "plight"? We were all lucky enough to work on a film retrospective of and tribute to a legendary horror film, in the process we got to meet some incredible people, and our film will be seen by thousands of viewers. At this point in my fledgling career, I really can't ask for much more than that. Scream means a great deal to me personally; like its spiritual forefather and my favorite film, Halloween, it's a film that really did change the way American horror films were made and influenced the culture on a deep level and meaningful way. And as I said before, it's one of my favorite horror films and franchises ever. So, every time I think about having worked on this show, I feel a tremendous sense of pride, honor, and joy. I just hope the fans love it as much as I do…and after viewing the final cut, I really think they will.
Thanks to our guests for participating – Dan, Thommy and Lito (additionally Lito provided invaluable assistance in co-ordinating this group interview).
Inside Story: Scream airs tonight (Schedule). Those without the BIO Channel or overseas fans are encouraged to watch the selection of clips from the documentary.