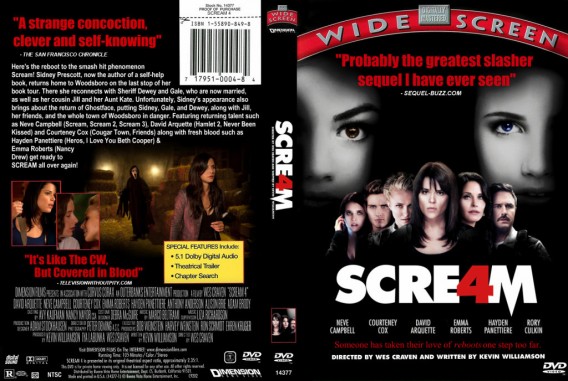 What are the plans for Scream 4 DVD/BD? The window between theatrical and home release has increasingly narrowed in recent years, and it's ballpark possible Dimension might want to take advantage in recouping costs. But here's what we've heard…
Release Date
Back in January we saw proof Scream 4's home release in Mexico would be September. This week we learned Australia is getting it around August time to coincide closely with Scream 2 & Scream 3's Blu-Ray releases that month. So let's say August/September until informed otherwise. That's essentially a four month gap.
Special Features
Expect the usual Director's Commentary, behind-the-scenes and bloopers. That's boilerplate by now – what you really want to know is if all the removed material will wind up on the release. Luckily, Wes Craven was quoted in a recent interview as saying:
"We shot a script that was 138 pages or something like that, so we had a lot of scenes that had to go on the cutting room floor. Some were kind of redundant. Sometimes we were pointing too much at a character as a red herring. There are seven or eight scenes that will be on the DVD. All the really good stuff was in the final film."
That means we're sure to get the major clumps of discarded footage that we've been covering in our Unseen Scream 4 articles. It's less likely we'll get the longer versions of scenes featuring dialogue glimpsed in various trailers, just as it's doubtful any removed material will be integrated into an extended Scream 4 cut. We're not cynical, just realists!
Scream 4's home release will be distributed by Starz/Anchor Bay Entertainment.
Artwork Credit: Sonny Baker