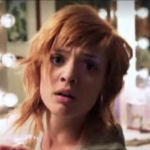 Our recently documented PC meltdown threw our productivity out the window like SMG, so we're quickly making up for lost time. Also our new reporting team seems to have been snuffed out by Ghostface. Here's your up-to-date Scream 4 playlist!


Still Screaming: The Ultimate Scary Movie Documentary gets a trailer! Perfectly cut and timed for maximum salivation. We're not too sure when the doco's coming out, but if you're in Los Angeles area you may want to seize the opportunity to attend Still Screaming's public screening premiere one day before Scream 4 is released!
The
Scream 4
cast (and Wes too) interviewed. With a twist. A really dirty set of twists. Prepare for a mix of audaciousness and awkwardness as your view of
them movie star types
is busted forever! Audio is NSFW! Hell yeah we warned you.
The full segment of Neve Campbell on
Jay Leno
AKA
Gigantichin Nightly
(we'll refer to it as anything but
The Tonight Show
) is now up in HD. Like David Arquette, Campbell has an uncanny youth-like appearance thing going on. By the way, it's only a matter of time before someone rips out the
new clip
in HD (scope it in the second video).
We also recently updated the "wind chimes"
TV Spot
with a higher quality copy. For more video action, watch
video clips
from Inside Story: Scream
– Roger Jackson's in-character line about killing Sidney's mother, father, pet etc. is the funniest thing.
Ever.