By wicked-scribe • April 11, 2011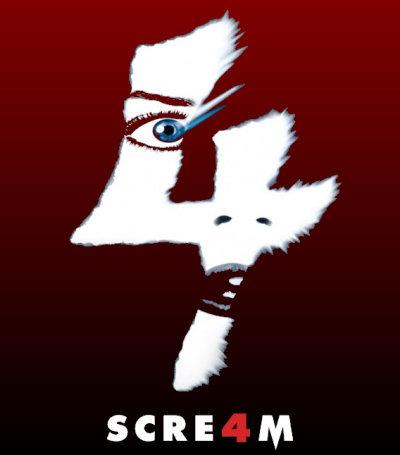 Updated: First thoughts today, official review after release. Please refer to article above!
Last night, Scream-Trilogy attended a press/advance screening for the Australian release of Scream 4 via Roadshow Films. Here are my first thoughts…
But first some setup. When I got to the screening there were ticket takers (or scanners, my invite was barcoded) and ushers dressed up as Ghostface. It was like, in a small way, Scream 2's opening scene and only served to set up the evening show's amazing mindf**k on film courtesy of Kevin Williamson & Wes Craven.
The opening scene is very… complex. It deconstructs how we think Scream opening scenes are supposed to play out, and characters actually voice this. So basically the opening scene is about opening scenes. This is our introduction to the meta element of Scream 4 that will have us discussing the implications for a long time after release.
The new cast does fine, not a loser in the bunch. Not every character seems to live in the same world – by and all most characters are approached seriously, but you also have the extremely cartoonish Rebecca (Alison Brie) and the homely, subtly creepy Deputy Judy (Marley Shelton). It reminds me of the original Scream where you had characters like Dewey and Himbry to give the audience a laugh between all the mayhem.
And there's a lot of mayhem. After all the introductions are out of the way in act one, it seemed almost wall-to-wall kills! Killscene, talkscene, killscene, talkscene. I'm sure it wasn't that way, I just remember while watching it thinking to myself "hey wait! I know Scream structure! You can't have another death so soon!" but they went there. But the deaths aren't just there to dazzle, each one felt integral to the plot and pushed things forward. Here the deaths represent something more than simple bodycount.
Let's talk core cast: they give this movie heart. I'm a dude that scoffs at the notion of heart, but damn it if one of the dialogue scenes between two old characters didn't make me well up. I've always said one or more of them should be killed to advance the plot (hey, I'm a story man) but just seeing these characters have a chance to sit down and talk like real human beings, it hit me: Sidney, Dewey and Gale are family to us. Fictional as they are, they've been through a lot, and so have we the audience as we've been captive to watch them work through it and achieve those minor victories between massacres.
So you want to know if any of the main three die and if so which one. I won't say, obviously, but I'll say this: no one gets out unscathed. It's not about life or death anymore, for me. We'll talk more about this in my official review towards the end of the week but like so many things in this movie, my preconceived notions of how Screams are supposed to play out and should play out, have been fucked with, reversed, and thrown back at me. I love it.
Onto the killer. Is the killer's identity organic to the story? Is their motive credible? Yes on both counts! The problems I (and audiences when I saw those films) had with the reveals of Scream 2 and 3 were that ancillary characters were under the mask and while I understood who they were, the audience didn't. Lots of "who the hell is that!?" And that was because of weakly-developed scripts in those cases (Scream 2 and 3). No such issue with Scream 4, like the original Scream everyone immediately understood the identity of the culprit (or culprits) once revealed. And that's no spoiler at all, but rather an indication that almost every character in the movie is properly sketched out. What impressed me about the motive is that the killer didn't spend 7 hours explaining it to whoever is left standing! I know slashers have an inherent need to confess, but overexplaining something to who you want to kill instead of killing them has always struck me as corny. Here we get enough of a taste to know why everything went down, but then it's quickly back into the action. I liken the pacing of the reveal/motive scene to Scream 1 and that's a good comparison point because that film was perfect.
By now we know how Scream climaxes play out. And get ready for my broken record response: they twist it and mess with our minds. The comparison that keeps coming up in my head is the season 2 finale of Lost. That was a show that took place entirely on craphole island up to that point, but the last scene of season 2 took us to the outside world, which blew our minds because it was so against established structure. And that's what my comparison here is really about, what the climax does to Scream structure and how far back it dares to pull the curtain, when your mind has been telling you for 15 years that they never will, is amazing. Scream 1 took place in the real world, that is it was plausible, while the sequels increasingly gave viewers safe detachment from the events on-screen since they could never really go down that way (only partially so for part 2, but almost completely for part 3). So in that sense, Scream 4 takes place in the real world, reflecting our own reality back at us through the cinema screen.
At the moment this movie ties with part 2 for me, but it just might be better. It has the edge on logic, and its willingness to break Scream structure is like a cappuccino after a decade of yawnfests which saw me stop watching modern horror save for a few. If there are any negatives, they are minor and I'll be sure to discuss them through the official review. But my early thoughts? Scream 4 is an astoundingly clever sequel that will be difficult to top.