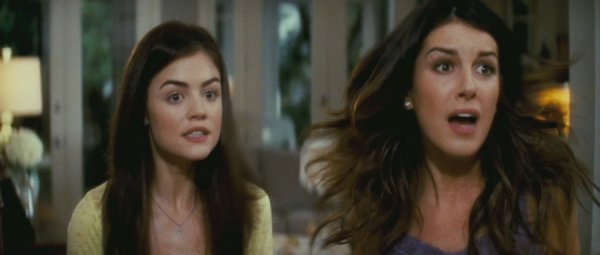 How would you feel being asked to leave an early screening of Scream 4 with the cast at Wes Craven's house?!  Actress Shenae Grimes experienced this first-hand and shared with Zap2it all of the details.
"I haven't seen the full film," Grimes laughs. "I kind of messed up. There was a screening and I invited a friend, and we weren't allowed to bring friends because it was super super top secret, so I actually couldn't stay. So that was kind of a let down. But it's cool cause now I'll get to see it with everybody else at the premiere."
Grimes' role in the upcoming film has been kept hush hush –unless spoilers got the best of ya! –and although she remained mum on her role, Grimes was not privy to any plot details other than her own scenes.  "I have no idea [how it ends]," she admits. "Even when I did it I never got to see a script. So I don't know what most of the movie is about other than my scene! It's all very hush hush."
Zap2it also spoke with Aimee Teegarden, who had seen the final product prior to last night's L.A. premiere.  Teegarden discussed how she avoided spilling the beans on the fate of her character to family members:
"I don't want to give it away because it's kind of ruining it for them too," she tells us. "So a lot of them are like, 'Tell me, but don't tell me, but tell me!' So I've been pretty good about keeping my lips sealed."
Scream 4 hits theaters in 3 days!  Have you pre-ordered your tickets??
Source: Zap2it