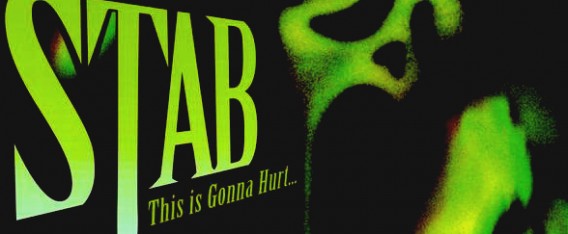 If Scream-Trilogy.net existed within the Scream films, what would that website be? StabFlix is the answer…
For latecomers, Stab is the fictional franchise within the "reality" of Scream and has garnered a mini-following, further propelled by Scream 4's double-twist opening scene.
StabFlix is just the beginning of our plans for expansion in 2011. If you thought the release of Scream 4 would initiate our slinking into the sunset, you were wrong – dead wrong! This project is nowhere near complete, but getting there will be half the fun.
Here are the current main attractions at StabFlix:
-Read known details and storylines of all 7 Stab movies plus the Gale Weathers books they were based on, with reveals like the nature of Stab 5's time travel storyline.

-Download/print the Stab-a-thon logo and artwork as shown in Scream 4's barn party – ideal for your own Scream marathon.

-Purchase the official Stab trilogy posters released to coincide with Scream 2 and Scream 3, respectively.

-Download/print hi-res sleeves of the Stab DVDs, recreated by P.L. Boucher from the real prop front covers.
It goes without saying: Scream 4 spoilers will feature prominently! What are you waiting for? Are you ready to jump down the rabbit hole? See you on the other side…