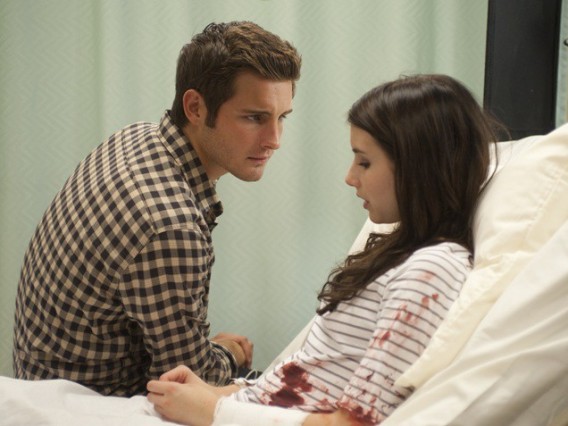 The MPAA didn't order any cuts to Scream 4, but a major amount of material was removed by Team Scream themselves. In a multi-part series of articles, Scream-Trilogy tells you – and shows you – what was left on the cutting room floor. This volume we look at a scene between Jill & Trevor.
Trevor originally had a larger part in the storyline, but the snips began at script stage and continued all the way into editing, leaving the character a mere footnote. We'll certainly elaborate on that in a later chapter but today we're focusing on a filmed hospital room scene that gave Trevor perhaps his biggest red herring moments ever – in retrospect, the seeds of Jill setting him up. This would have taken place before Rebecca's death.
Apart from the surviving photo above, to give you a complete view we've transcribed the entire scene for you, direct from the script pages.
AUNT KATE
Trevor's still out there in the hall. He hasn't moved since they brought you in. You won't even see him?
Jill feels conflicted. Regards her bandaged arm.
JILL
Maybe for a minute.
Kate nods, goes to the door. Says something to Trevor, who appears as Kate leaves.
AUNT KATE
I'll get some coffee and be right back.
Once she's gone, a silence. Just Jill and Trevor.
TREVOR
Uh-oh. She said "be right back."
Jill manages a smile. Trevor comes to her side.
JILL
Y'know, if Sidney can forgive all the fucked-up people in her life, I guess there's a version of my life where conceivably, hypothetically, eventually I can envision forgiving you.
Trevor steps closer now, nearly touching but not quite...
TREVOR
If something'd happened to you...I don't know what I would've done.
JILL
You would've regretted...the way we left it.
TREVOR
What's the way you wish we left it.
(even closer)
If we had to leave it now.
She just looks at him. He leans in...and kisses her. She responds. An intense moment. And they break...
JILL
I want this all to end. I don't want to be a victim. I want out of this stupid town--
TREVOR
You're not a victim, you're no one's victim. You're not Sidney, OK? Sometimes lightning just strikes.
He smiles, strokes her hair. And kisses her again. But this time she fails to repond...and when he pulls back--
JILL
You said you never read her book.
TREVOR
What?
JILL
"Lightning just strikes," that's a line from her book. But you said you hadn't read it. In my bedroom -- at the window, you said--
TREVOR
What the hell, Jill? It's just an expression! Lightning strikes! Shit happens! Whatever!
But Jill's gone tense. Her wheels are turning...
JILL
I told you we'd never get back together. And you said never say never. And now here we are--
TREVOR
Jill--!
JILL
Get out of my room.
TREVOR
What, I'm killing girls so I can get back with you?!
JILL
Mom! I need you! MOM!!!
She reaches for the call-button wand. Trevor grabs her arm.
TREVOR
Jill, I love you, I want to help you--
JILL
MOM!!!
Aunt Kate returns, bringing coffee and a smile--
AUNT KATE
Hope I'm not interrupting anything...
JILL
No. Trevor was just leaving. I'm not sure he's been home much the past couple days.
Trevor just looks at her. Shakes his head in dismay...
TREVOR
The hell's it gonna take, Jill. What the hell do I have to do...
This is a roughly 2-3 minute scene we expect – hope – to see as part of the DVD extras.