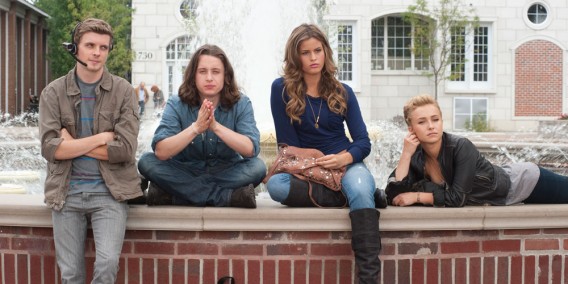 The MPAA didn't order any cuts to Scream 4, but a major amount of material was removed by Team Scream themselves. In a multi-part series of articles, Scream-Trilogy tells you – and shows you – what was left on the cutting room floor. Today we dissect an excised ensemble scene.
A defining point of characterization in Scream (1996) was the scene early on in which Sidney, Billy, Stu, Tatum and Randy sit at their local hangout, the fountain. It was important because it showed us they formed a small social clique, and their functions within that. It was a chance to sit back and relax with the teenagers in their natural habitat before the plot started barreling forward. They were cynical and insensitive with their remarks, but that sense of detachment rang true of the younger generation.
For Scream 4, a whole scene was filmed that took place in the same (fictional) location with the new generation of characters similarly discussing the death of two fellow students. Present were Trevor, Robbie, Charlie, Olivia and Kirby. It seems Fake Sidney 2.0 Jill was unaccounted for, presumably because of her ex-boyfriend's presence. As one can extract from the snippets shown prominently in promotion, part of the sequence was discussing who was inevitably next on the chopping block:
Charlie: "You can't kill Sidney, she's victim royalty."
Olivia: "Not true, Sid's expendable."
Charlie: "Point taken."
Olivia: "Well, it's time for someone new to die."
Those lines would result in two instances of irony as Olivia unknowingly prophecized herself as the next victim, and Charlie failed to finalize a third-act bloodbath for the main cast. It was the supporting cast to get massacred, including ultimately Charlie himself.
This might have been snipped for one of the overall deletion reasons Wes Craven stated: excessive red herrings. But a scene like this is supposed to create red herrings, just as the 1996 version practically outed Stu as one of the culprits (in retrospect). The 2011 edition of the Woodsboro High splat pack seemed a refreshing motley crew of disparate social classes, viewing and verbalizing the victims through film lens instead of real life. So another possibility for the removal was a possible resulting lack of sympathy for the new characters, a reason that a similar group scene was removed from Scream 3.