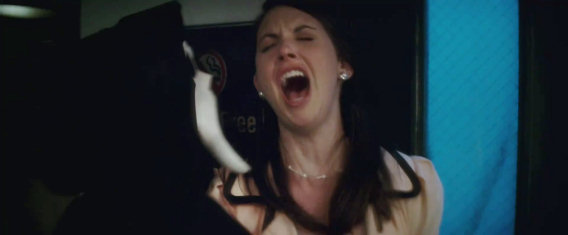 In a new interview, Wes Craven discusses Scream 4's additional photography and is very specific in what was shot and why (no spoilers). Illuminating, especially once you see the movie.
"I'll tell you exactly what those were, was Bob [Weinstein], at a certain point, I think in our last screening…got very excited about [the movie, but wanted a couple of scenes to change]. They were the Alison Brie scene, where [CENSORED FOR SPOILERS], and the scene with the two girls in Woodsboro at the very beginning of the movie. So he asked me to write kind of supplements to those scenes. He wanted more suspense in the Alison Brie [scene]. In the original version of it she [CENSORED FOR SPOILERS]. So it was relatively quick.
So I wrote this whole thing where she [CENSORED FOR SPOILERS]. And it was really just a way of enhancing a scene that was really good but felt like it should have just a little bit more. And the same for the other one. In fact, the point about the one of the girls in the 'Lando' house, as we referred to it, was that Bob wanted upfront to establish that the killer was…making a movie. And we did not have that element in those scenes. And so [we added] this thing where the phone rings and the second girl answers the phone and starts to talk to the killer who's calling [him/herself] 'the director'.
And then the chase that went through the house was actually a scene that was originally planned to be shot and then we dropped it at the last minute. Bob didn't think it was necessary. So I kind of had a good laugh at his expense when we went back and shot the very scene that he had pulled the plug on during the main shoot.
But that's all it was. It wasn't like either of the scenes had failed. It was just in that one scene we wanted more suspense, and in the other Bob wanted the killer [to speak] in terms of being a killer that was making their own movie. And so the scene was the same until the girl goes upstairs and then when she comes down…her phone went dead and…she then got up, she was getting some popcorn out of the cupboard and stuff, and Ghostface is standing there. So it really wasn't…it was just a different version, and it didn't have that phone call expressing that theme."
Read the full interview at Bloody-Disgusting